Lost Wax Casting Weekend
Dates: May 1-2, 2021
Meets: Sa and Su from 10:30 AM to 4:30 PM
Location: 25 Sagamore Road Metals Studio
Student Fee: $244.00
There are 5 openings remaining at this time.
Experience the magic of lost wax casting! This workshop starts from carving or modeling wax, prepping the wax model for casting, encasing it in a plaster substance called investment, and burning out the wax in a kiln overnight. The following day we will reconvene to melt our metal, pour it into the mold and, voila! What was wax is now metal! The rest of the workshop will be for cleaning your castings, putting on findings, and polishing.
If you have previous knowledge in wax carving you may start making your wax model ahead of time and bring it to the class.
The amount of metal needed for casting varies depending on the volume of the wax model. The metal for casting will be measured out and sold to students during the second day of class. Or bring your own sterling silver or bronze casting grain. Contact Hailey at hangione@worcester.edu with any questions.
Fee Breakdown:
Student Fee: $200
Studio Fee: $30
Materials Fee: $14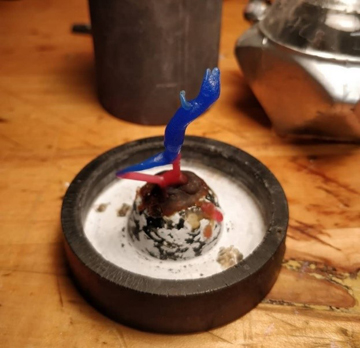 Re-Opening Guides for Students
All registrants are asked to review the Craft Center's COVID-19 Response page for guidance on the measures we are taking to re-open our studios safely and the policies we are asking all students to abide by in our combined efforts to maintain a healthy work environment. Please review this information on
here
.
Cancellation Policies
Effective August 1, 2020, the Craft Center will have updated policies regarding Refunds and Cancellations for Adult and Youth In-Studio Course, Adult & Youth Online Courses, and for Cancellations due to illness as it pertains to all programming schedule for Fall 2020 onwards. Please read through these policies carefully on our website's policy page.
Craft Center Re-Opening Policy Acknowledgement & Release of Liability
Every registrant will be expected to complete an electronic form included in their registration receipt acknowledging that they understand and agree to comply with the policies outlined, and that they thereby release the Worcester Center for Crafts and Worcester State University of any liability. This form must be submitted no less than 48 hours prior to the start of the first class.
To access the form, click
here
or please refer to your emailed registration receipt.
Inclement Weather Policy
For information on the Craft Center's inclement weather cancellation policies, please visit our website's policy page. Students are encouraged to also check our homepage and our Facebook page for status updates and closure announcements.
Questions? Call us at 508.753.8183 X301
The Worcester Center for Crafts generally follows the Worcester State University inclement weather policy relative to building closing and class cancellations, however there are times that evening classes, and weekend workshops differ from the Worcester State University weather policies. Click here for cancelations The Worcester Center for Crafts schedules make-up classes when possible for sequential classes.
Questions? Call us at 508.753.8183 X301
Notes:
For safety reasons we ask everyone to comply with the dress code policy in the Metals Department: Closed-toe footwear (no high heels), pants/shorts must go below the knee, long hair must be pulled back from the face and secured. If your class is scheduled to occur in the evenings after 5PM or if you arrive on a weekend before 10AM, please enter the facilities through our rear, handicap-accessible Studio Entrance across from the Parking Lot. The front entrance and offices lock at 5PM. As you enter through the Studio Entrance, please take a right if you are looking for the Ceramics Studio. Please take a left if you are looking for the Metals Studio or the Multimedia Studio.
| | |
| --- | --- |
| Fee: | $244.00 |
| Hours: | 12.00 |
| CEUs: | 12.00 |
Fee Breakdown
| Category | Description | Amount |
| --- | --- | --- |
| Course Fee (Basic) | Student Fee | $ 200.00 |
| Mandatory Fee | Materials Fee | $ 14.00 |
| Mandatory Fee | Studio Fee | $ 30.00 |
25 Sagamore Road Metals Studio
Hailey Angione
Hailey Angione is a jeweler and ceramicist who grew up in New Hampshire. She received a dual degree in Ceramics and Metalsmithing from the University of Massachusetts Dartmouth in 2019. She graduated summa cum laude, has won two awards from the Annual Jewelry Design Competition held by the International Precious Metals Institute, and was a finalist for the 2019 Windgate Fellowship Award.
Hailey makes work inspired by books, old architecture, and history. Using a combination of metal and ceramic she makes vessels and wearable objects. Hailey enjoys experimenting with materials, sharing ideas and techniques, and finding creative solutions to creative problems. She finds joy in helping others make their best work.
View Hailey's work at:
haileyangione.com
| Date | Day | Time | Location |
| --- | --- | --- | --- |
| 05/01/2021 | Saturday | 10:30 AM to 4:30 PM | 25 Sagamore Road Metals Studio |
| 05/02/2021 | Sunday | 10:30 AM to 4:30 PM | 25 Sagamore Road Metals Studio |