Glassblowing I
Dates: April 13 - May 18, 2021
Meets: Tu from 6:30 PM to 9:30 PM
Location: New Street Glass Studio Hot Glass
Student Fee: $450.00
There is only one opening remaining at this time.
1st time glassblowing students use coupon code
"GLASS"
to save $50 Learn the fundamentals of an art form that has remained unchanged for over 2000 years. The instructor will guide students through each step of the process, providing hands-on instruction and individual assistance. After learning the safety and studio etiquette rules, students will gain practical skills in the art of glassblowing while completing projects including paperweights, drinking glasses, bowls, and small sculptures. No experience is necessary and all materials are included.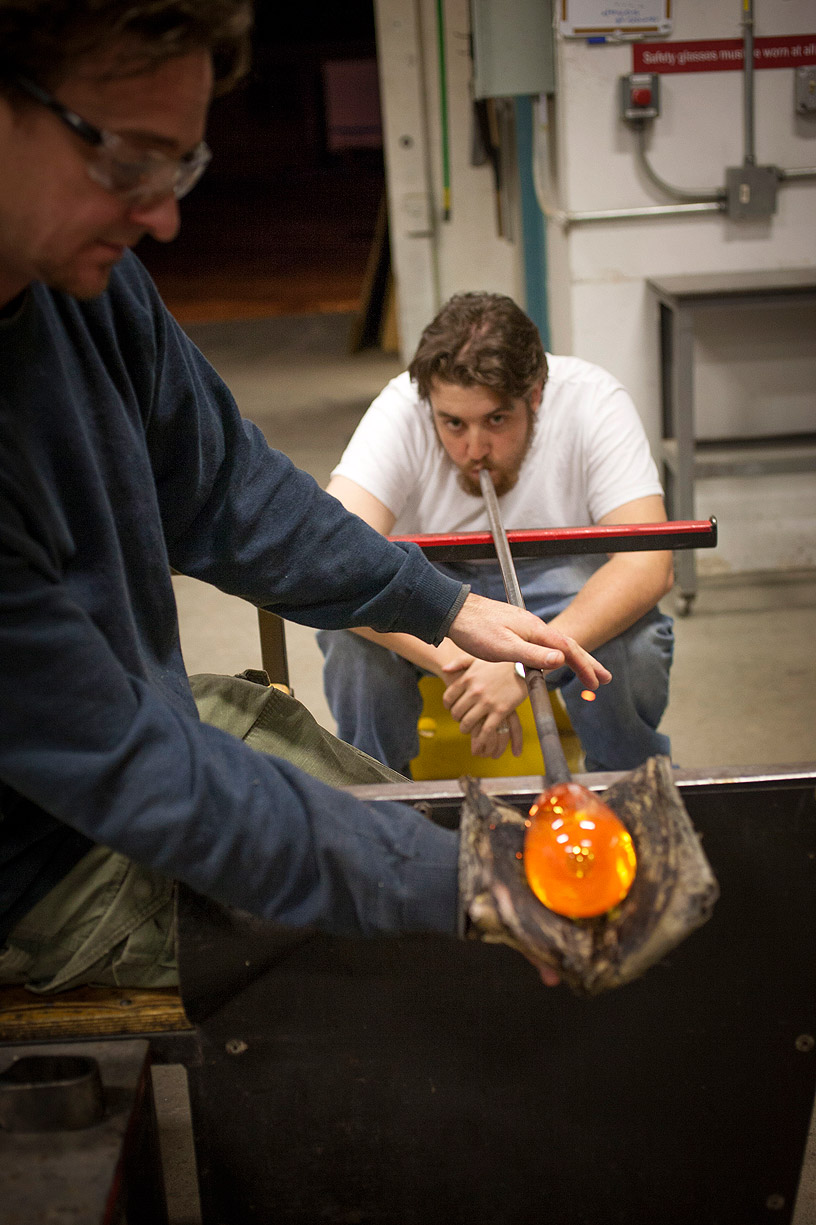 Re-Opening Guides for Students
All registrants are asked to review the Craft Center's COVID-19 Response page for guidance on the measures we are taking to re-open our studios safely and the policies we are asking all students to abide by in our combined efforts to maintain a healthy work environment. Please review this information on
here
.
Cancellation Policies
Effective August 1, 2020, the Craft Center will have updated policies regarding Refunds and Cancellations for Adult and Youth In-Studio Course, Adult & Youth Online Courses, and for Cancellations due to illness as it pertains to all programming schedule for Fall 2020 onwards. Please read through these policies carefully on our website's policy page.
Craft Center Re-Opening Policy Acknowledgement & Release of Liability
Every registrant will be expected to complete an electronic form included in their registration receipt acknowledging that they understand and agree to comply with the policies outlined, and that they thereby release the Worcester Center for Crafts and Worcester State University of any liability. This form must be submitted no less than 48 hours prior to the start of the first class.
To access the form, click
here
or please refer to your emailed registration receipt.
Inclement Weather Policy
For information on the Craft Center's inclement weather cancellation policies, please visit our website's policy page. Students are encouraged to also check our homepage and our Facebook page for status updates and closure announcements.
Questions? Call us at 508.753.8183 X301
Notes:
Avoid wearing man made fibers and bring a notebook and a bottle of water you to class. Please wear close-toed shoes. All glass classes take place at the Worcester Center for Crafts' New Street Glass Studio, 35B New Street, Worcester, MA 01605
| | |
| --- | --- |
| Fee: | $450.00 |
| Hours: | 18.00 |
| CEUs: | 18.00 |
Call us at (508)753-8183 x301 to see if you qualify for a discount on this course.
New Street Glass Studio Hot Glass
| Date | Day | Time | Location |
| --- | --- | --- | --- |
| 04/13/2021 | Tuesday | 6:30 PM to 9:30 PM | New Street Glass Studio Hot Glass |
| 04/20/2021 | Tuesday | 6:30 PM to 9:30 PM | New Street Glass Studio Hot Glass |
| 04/27/2021 | Tuesday | 6:30 PM to 9:30 PM | New Street Glass Studio Hot Glass |
| 05/04/2021 | Tuesday | 6:30 PM to 9:30 PM | New Street Glass Studio Hot Glass |
| 05/11/2021 | Tuesday | 6:30 PM to 9:30 PM | New Street Glass Studio Hot Glass |
| 05/18/2021 | Tuesday | 6:30 PM to 9:30 PM | New Street Glass Studio Hot Glass |