All About Electric Kilns - Online Workshop
| | |
| --- | --- |
| Dates: | June 19, 2023 |
| Meets: | M from 6:00 PM to 9:30 PM |
| Location: | Remote Learning |
| Cost: | $79.00 |
Sorry, we are no longer accepting registrations for this course. Please contact our office to find out if it will be rescheduled, or if alternative classes are available.

If you own, operate or are considering the purchase of an electric kiln, this online workshop is designed for you to further your understanding of the installation, use and operation of these kilns. All from the comfort of your own studio or home! You will learn how kilns are designed and powered so you may match the kiln to your electrical service, as well as the ins and outs of kiln programing, all designed to help students develop their understanding and confidence in using electric kilns to meet their needs. Zoom based lecture will feature online and live resources.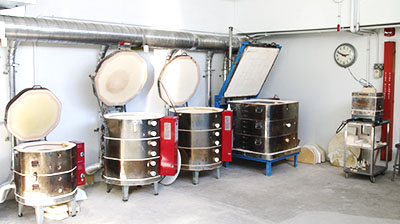 Cancellation Policies
Please read through these policies carefully on our website's policy page. Written notice of cancellations via email (to wccregistration@worcester.edu) is required within specified cancellation windows detailed on our website.
COVID Policies
All registrants are asked to review the Craft Center's COVID-19 Response page for guidance on the safety policies we are asking all students to abide by in our combined efforts to maintain a healthy work environment. Mask wearing continues to be required of all visitors and students in all studios to keep everyone safe regardless of vaccination status. Please review this information on here.
Craft Center COVID Policy Acknowledgement
Every registrant will be expected to complete an electronic form included in their registration receipt acknowledging that they understand and agree to comply with the policies outlined. This form must be submitted no less than 48 hours prior to the start of the first class. If you have submitted this form for a prior registration, you do not need to submit another one.
To access the form, click here or please refer to your emailed registration receipt.

Inclement Weather Policy
For information on the Craft Center's inclement weather cancellation policies, please visit our website's policy page. Students are encouraged to also check our homepage and our Facebook page for status updates and closure announcements.
Questions? Call us at 508.753.8183 X301


| | |
| --- | --- |
| Fee: | $79.00 |
| Hours: | 4.00 |
| CEUs: | 4.00 |
Tom O'Malley
Tom O'Malley began studying ceramics in high school and received his BFA from the New York State College of Ceramics at Alfred University in 1985. He received his MFA, with honors, from the Rhode Island School of Design in 1994. O'Malley has exhibited nationally and internationally, winning numerous awards. He received an LCC Grant in 1998 and his pottery was the recipient of the People's Choice Award at the 2002 Strictly Functional Pottery National.
His work has appeared in a number of publications, including Lark Books 500 Tiles, and is slated to appear in the forthcoming publication 21st Century Ceramics. He has taught at RISD, Rhode Island College, Becker College, Worcester State University and the Worcester Center for Crafts, and has presented a variety of workshops and lectures throughout New England. He has been a board member of The Studio Potter since 2005 and currently is the Studio Liaison and Program Director of the Worcester Center for Crafts.
View Tom's Latest Work and Profile: Tom O'Malley Ceramics