Intro to Metals 1: Jewelry & Small Objects
| | |
| --- | --- |
| Dates: | February 27 - April 2, 2024 |
| Meets: | Tu from 6:00 PM to 9:00 PM |
| Location: | 25 Sagamore Road Metals Studio |
| Cost: | $330.00 |
There are still openings remaining at this time.
Beginning students will explore the fundamentals of working with metal to make jewelry and small objects. Learn basic techniques such as sawing, piercing, filing, disc cutting, dapping, doming and finishing. This class will also introduce students to techniques such as soldering, metal forming and basic construction. Students will begin to develop skills and personal creativity through instructor-guided projects that focus on design and execution. Each student will be encouraged to complete two to three pieces while becoming more proficient with the materials, tools, studio equipment, and safety practices. This class is also great for previous entry-level students who would like additional instruction and support.
Youth Ages 13-17 may enroll in the course if they are enrolled with a parent or guardian. For more information, please contact the registration office.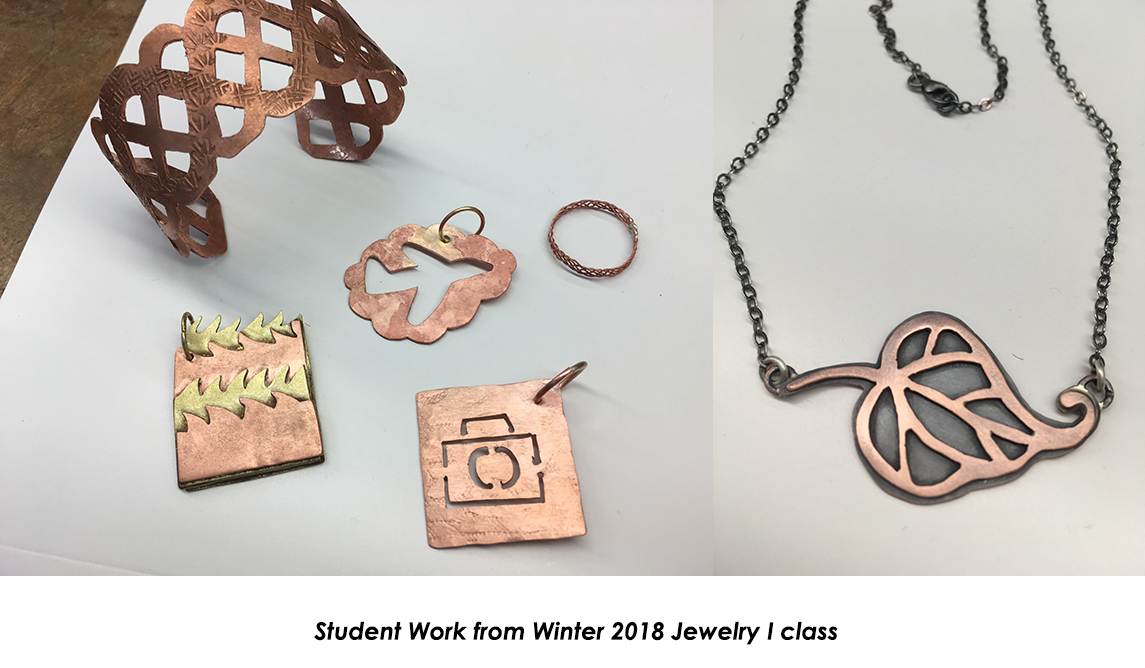 Cancellation Policies
Please read through these policies carefully on our website's policy page. Written notice of cancellations via email (to wccregistration@worcester.edu) is required within specified cancellation windows detailed on our website.



Inclement Weather Policy


For information on the Craft Center's inclement weather cancellation policies, please visit our website's policy page. Students are encouraged to also check our homepage and our Facebook page for status updates and closure announcements.


WCC Media Release Policy


We may occasionally use photos of students in promotional materials. Enrollment in one of our courses is consent to WCC using photos/videos of your class participation and/or art work in future advertising. If you would prefer WCC to not use photos of yourself or your enrolled family member, please let us know by filling out the media release form located on our website, and submitting it to wccregistration@worcester.edu
If there is a photographer in your course/workshop, kindly remind them that you have withheld consent to be photographed. If WCC is using your photo in current marketing and you would prefer it not to be used, please let us know by emailing wccregistration@worcester.edu
Questions? Call us at 508.753.8183 X301
Notes:
For safety reasons we ask everyone to comply with the dress code policy in the Metals Department: Closed-toe footwear (no high heels), pants/shorts must go below the knee, long hair must be pulled back from the face and secured. If your class is scheduled to occur in the evenings after 5PM or if you arrive on a weekend before 10AM, please enter the facilities through our rear, handicap-accessible Studio Entrance across from the Parking Lot. The front entrance and offices lock at 5PM. As you enter through the Studio Entrance, please take a right if you are looking for the Ceramics Studio. Please take a left if you are looking for the Metals Studio or the Multimedia Studio.
| | |
| --- | --- |
| Fee: | $330.00 |
| Hours: | 18.00 |
| CEUs: | 18.00 |
Fee Breakdown
| Category | Description | Amount |
| --- | --- | --- |
| Course Fee (Basic) | Student Fee | $ 250.00 |
| Mandatory Fee | Studio Fee | $ 35.00 |
| Mandatory Fee | Materials Fee | $ 45.00 |
25 Sagamore Road Metals Studio
Julian De La Garza
Artist Bio
Julian De La Garza was born in New York, and raised in Rhode Island. He received his BA in Jewelry/Metals from Rhode Island College and then went on to work in the industry. During this period he was a diamond setter for Tiffany & Co. and then a model maker for C & J Jewelry working on high-end jewelry brands such as David Yurman, Haverhill Leech, and Tiffany & Co. All while also continuing his personal studio practice and jewelry business.

Realizing he had always wanted to teach at the college level, he left the stagnancy of the industry and decided to go back to school to obtain his MFA at the University of Massachusetts Dartmouth in Artisanry with a focus on Jewelry/Metals. During his stay at the university he has received high awards for his jewelry design skills through juried competitions and has also had opportunities to teach as well as assist advanced classes.
Check our Julian's website here and his Instagram page here!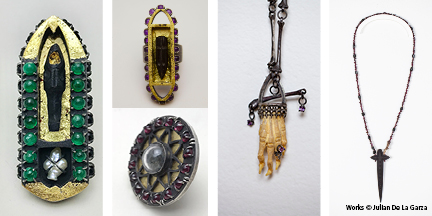 | Date | Day | Time | Location |
| --- | --- | --- | --- |
| 02/27/2024 | Tuesday | 6 PM to 9 PM | 25 Sagamore Road Metals Studio |
| 03/05/2024 | Tuesday | 6 PM to 9 PM | 25 Sagamore Road Metals Studio |
| 03/12/2024 | Tuesday | 6 PM to 9 PM | 25 Sagamore Road Metals Studio |
| 03/19/2024 | Tuesday | 6 PM to 9 PM | 25 Sagamore Road Metals Studio |
| 03/26/2024 | Tuesday | 6 PM to 9 PM | 25 Sagamore Road Metals Studio |
| 04/02/2024 | Tuesday | 6 PM to 9 PM | 25 Sagamore Road Metals Studio |