Beginner Stained Glass
| | |
| --- | --- |
| Dates: | February 28 - April 3, 2024 |
| Meets: | W from 6:30 PM to 9:30 PM |
| Location: | 25 Sagamore Road Rm. 115 |
| Cost: | $320.00 |
There are still openings remaining at this time.

In this 6 week class, you will learn the process of making stained glass. You will be taught the copper foil method also known as the Tiffany method. During the first class the instructor will teach you all the steps you need to know while you create a small stained glass suncatcher. The rest of the classes will be dedicated to a design choice of your own. Size and number of pieces in the design will be limited to a reasonable size that can be completed within the next 5 weeks.

Please wear: natural fibers (cotton, linen, wool) and closed toe shoes

Students will discuss required materials to bring on the first day of class.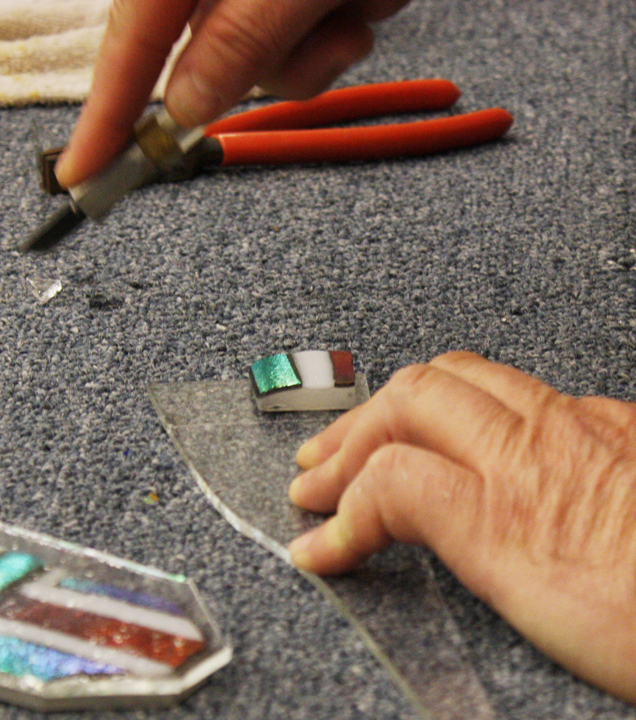 Cancellation Policies
Please read through these policies carefully on our website's policy page. Written notice of cancellations via email (to wccregistration@worcester.edu) is required within specified cancellation windows detailed on our website.
COVID Policies

IMPORTANT COVID Policy UPDATES. Please read carefully:
As of Monday, October 17, 2022, masks will be optional in our studio spaces. Everyone accessing the studio is asked to recognize and accept their role as part of a greater community effort that is required to help maintain the safety of all members by being proactive about health self-assessment, following studio guidelines, and participating fully in the support of sanitization efforts that are required to maintain a healthy work environment. Please be sure to read through the Worcester Center for Crafts' updated COVID policies on our COVID-19 Response Page (
https://www.worcestercraftcenter.org/covid-19-response
).

Inclement Weather Policy
For information on the Craft Center's inclement weather cancellation policies, please visit our website's policy page. Students are encouraged to also check our homepage and our Facebook page for status updates and closure announcements.
Questions? Call us at 508.753.8183 X301


Notes:
Please avoid wearing man made fibers and bring a bottle of water with you to class. Please wear close-toed shoes. All STAINED GLASS courses will take place at the Worcester Center for Crafts' Multimedia Studio, located at 25 Sagamore Road, Worcester, MA.
| | |
| --- | --- |
| Fee: | $320.00 |
| Hours: | 18.00 |
| CEUs: | 18.00 |
Fee Breakdown
| Category | Description | Amount |
| --- | --- | --- |
| Course Fee (Basic) | Student Fee | $ 272.00 |
| Mandatory Fee | Materials Fee | $ 48.00 |
25 Sagamore Road Rm. 115
Glass and Enamels Studio
| Date | Day | Time | Location |
| --- | --- | --- | --- |
| 02/28/2024 | Wednesday | 6:30 PM to 9:30 PM | 25 Sagamore Road Rm. 115 |
| 03/06/2024 | Wednesday | 6:30 PM to 9:30 PM | 25 Sagamore Road Rm. 115 |
| 03/13/2024 | Wednesday | 6:30 PM to 9:30 PM | 25 Sagamore Road Rm. 115 |
| 03/20/2024 | Wednesday | 6:30 PM to 9:30 PM | 25 Sagamore Road Rm. 115 |
| 03/27/2024 | Wednesday | 6:30 PM to 9:30 PM | 25 Sagamore Road Rm. 115 |
| 04/03/2024 | Wednesday | 6:30 PM to 9:30 PM | 25 Sagamore Road Rm. 115 |