Teens at the Wheel (14-17 years)
| | |
| --- | --- |
| Dates: | February 28 - April 3, 2024 |
| Meets: | W from 4:00 PM to 6:00 PM |
| Location: | 25 Sagamore Road Wheelthrowing |
| Cost: | $245.00 |
There are still openings remaining at this time.
Take a seat at the wheel! Instructor demonstration and hands-on exploration will grow your ceramics techniques while developing your own unique style. A mix of instructor-led and free-choice projects make this class great for 14-17 year old returning students and students beginning or growing their ceramics art portfolio. Being creative can get messy, so please dress for mess!
Clay, firing and tools provided.




Please note that due to the curriculum and instructional design of this class, no exceptions to the age limits on this teen course (14-17 years) may be granted at this time.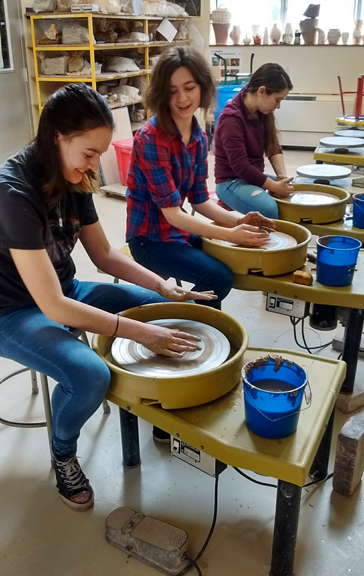 Cancellation Policies
Please read through these policies carefully on our website's policy page. Written notice of cancellations via email (to wccregistration@worcester.edu) is required within specified cancellation windows detailed on our website.
COVID Policies
IMPORTANT COVID Policy UPDATES. Please read carefully:
As of Monday, October 17, 2022, masks will be optional in our studio spaces. Everyone accessing the studio is asked to recognize and accept their role as part of a greater community effort that is required to help maintain the safety of all members by being proactive about health self-assessment, following studio guidelines, and participating fully in the support of sanitization efforts that are required to maintain a healthy work environment. Please be sure to read through the Worcester Center for Crafts' updated COVID policies on our COVID-19 Response Page (
https://www.worcestercraftcenter.org/covid-19-response
).
Inclement Weather Policy



For information on the Craft Center's inclement weather cancellation policies, please visit our website's policy page. Students are encouraged to also check our homepage and our Facebook page for status updates and closure announcements.
Questions? Call us at 508.753.8183 X301


Notes:
For Youth & Teen Program Enrollments: -Please also review the Youth & Teen Program guide and forms that will be attached to your receipt. -Kids & Teens, please dress for mess and be ready to have fun! For studio safety compliance, please wear close-toed shoes, pants or shorts that go below the knee, and long hair should be pulled back from the face and secured.
| | |
| --- | --- |
| Fee: | $245.00 |
| Hours: | 12.00 |
| CEUs: | 12.00 |
25 Sagamore Road Wheelthrowing
Polly Marie Hansel
www.pollyachiart.com
Bianca Turner
| Date | Day | Time | Location |
| --- | --- | --- | --- |
| 02/28/2024 | Wednesday | 4 PM to 6 PM | 25 Sagamore Road Wheelthrowing |
| 03/06/2024 | Wednesday | 4 PM to 6 PM | 25 Sagamore Road Wheelthrowing |
| 03/13/2024 | Wednesday | 4 PM to 6 PM | 25 Sagamore Road Wheelthrowing |
| 03/20/2024 | Wednesday | 4 PM to 6 PM | 25 Sagamore Road Wheelthrowing |
| 03/27/2024 | Wednesday | 4 PM to 6 PM | 25 Sagamore Road Wheelthrowing |
| 04/03/2024 | Wednesday | 4 PM to 6 PM | 25 Sagamore Road Wheelthrowing |