(3- Week) All Levels Stained Glass
| | |
| --- | --- |
| Dates: | January 29 - February 12, 2024 |
| Meets: | M from 12:30 PM to 3:30 PM |
| Location: | 25 Sagamore Road Rm. 115 |
| Cost: | $160.00 |
There are still openings remaining at this time.
Finding it hard to commit to an evening class or a 6 week course? In this 3 week course you'll have enough time to finish a smaller project without the commitment of 6 weeks or the rush of a 1 day workshop. All levels are welcome!

This course meets 3 times
Please wear natural fibers (cotton, linen, wool) and closed toe shoes. Thank you!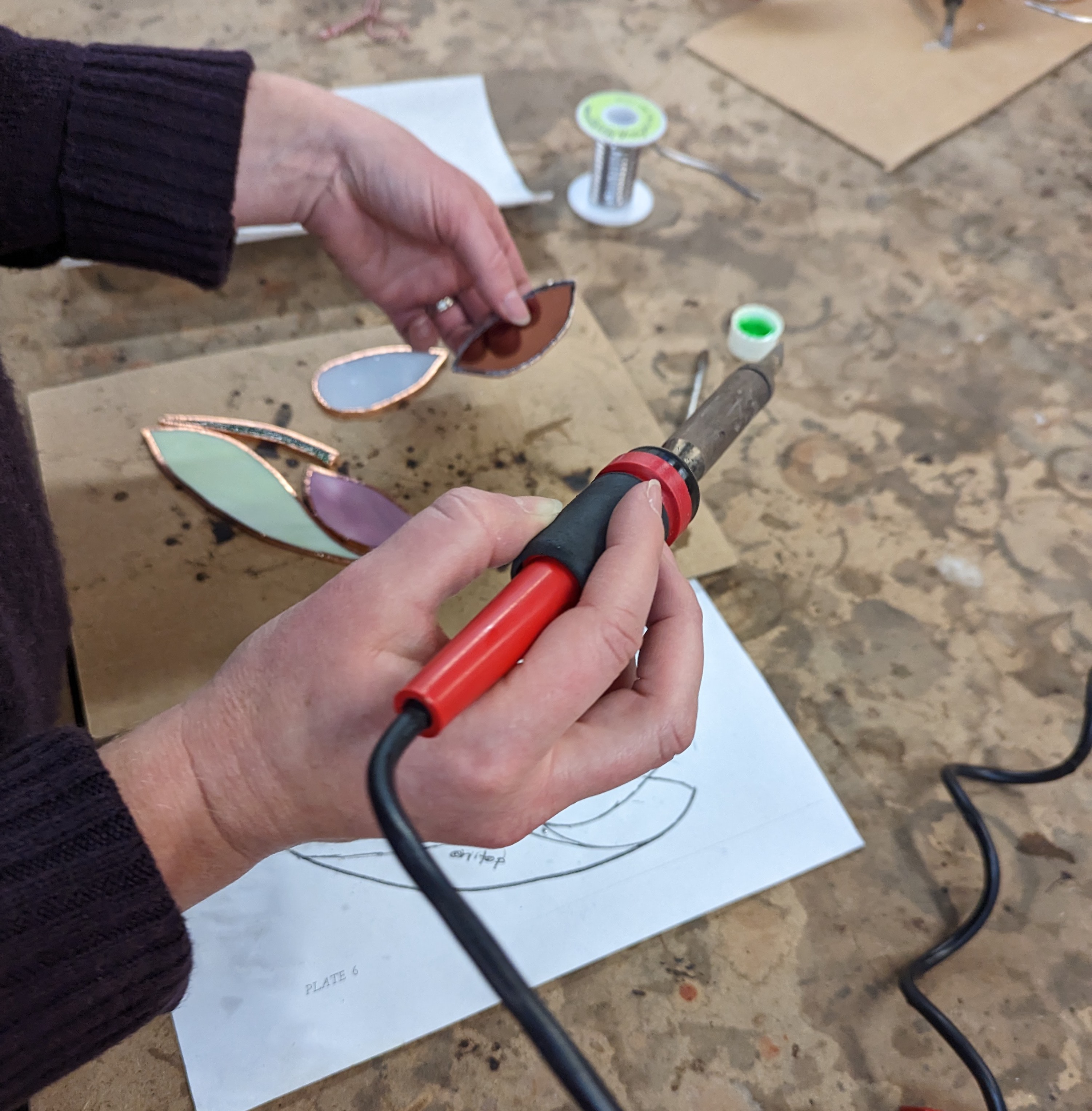 Cancellation Policies
Please read through these policies carefully on our website's policy page. Written notice of cancellations via email (to wccregistration@worcester.edu) is required within specified cancellation windows detailed on our website.



Inclement Weather Policy



For information on the Craft Center's inclement weather cancellation policies, please visit our website's policy page. Students are encouraged to also check our homepage and our Facebook page for status updates and closure announcements.


WCC Media Release Policy


We may occasionally use photos of students in promotional materials. Enrollment in one of our courses is consent to WCC using photos/videos of your class participation and/or art work in future advertising. If you would prefer WCC to not use photos of yourself or your enrolled family member, please let us know by filling out the media release form located on our website, and submitting it to wccregistration@worcester.edu
If there is a photographer in your course/workshop, kindly remind them that you have withheld consent to be photographed. If WCC is using your photo in current marketing and you would prefer it not to be used, please let us know by emailing wccregistration@worcester.edu
Notes:
If your class is scheduled to occur in the evenings after 5PM or if you arrive on a weekend before 10AM, please enter the facilities through our rear, handicap-accessible Studio Entrance across from the Parking Lot. The front entrance and offices lock at 5PM. As you enter through the Studio Entrance, please take a right if you are looking for the Ceramics Studio. Please take a left if you are looking for the Metals Studio or the Multimedia Studio. The stained glass studio is located with in Multi Media.
Fee Breakdown
| Category | Description | Amount |
| --- | --- | --- |
| Course Fee (Basic) | Student Fee | $ 136.00 |
| Mandatory Fee | Materials | $ 24.00 |
25 Sagamore Road Rm. 115
Glass and Enamels Studio
| Date | Day | Time | Location |
| --- | --- | --- | --- |
| 01/29/2024 | Monday | 12:30 AM to 3:30 PM | 25 Sagamore Road Rm. 115 |
| 02/05/2024 | Monday | 12:30 AM to 3:30 PM | 25 Sagamore Road Rm. 115 |
| 02/12/2024 | Monday | 12:30 AM to 3:30 PM | 25 Sagamore Road Rm. 115 |