Youth Summer Program Week 5: Fiber (Ages 11+)
Dates: August 7-11, 2023
Meets: M, Tu, W, Th and F from 9:00 AM to 3:00 PM
Location: 25 Sagamore Road Multi-Media
Student Fee: $450.00
Youth Summer Program Week 5: Fiber (Ages 11+)

Theme of the Week: Intuitive

SAORI Weaving is a contemporary improvisational weaving from Japan. Instead of following a pre-designed pattern, one makes up as it goes. It is a form of expressive art. There is no mistake in SAORI. Students will learn how to weave on both a floor loom and a tabletop loom to make art work. They would be a scarf, a wall hanging, a hat, a purse, a pillow or something else they want. Mihoko will guide each student to pursue what they want to make after experience weaving and help them sew as they need.

This course goes from 9:00am-3:00pm with a lunch break from 11:40am-12:25pm.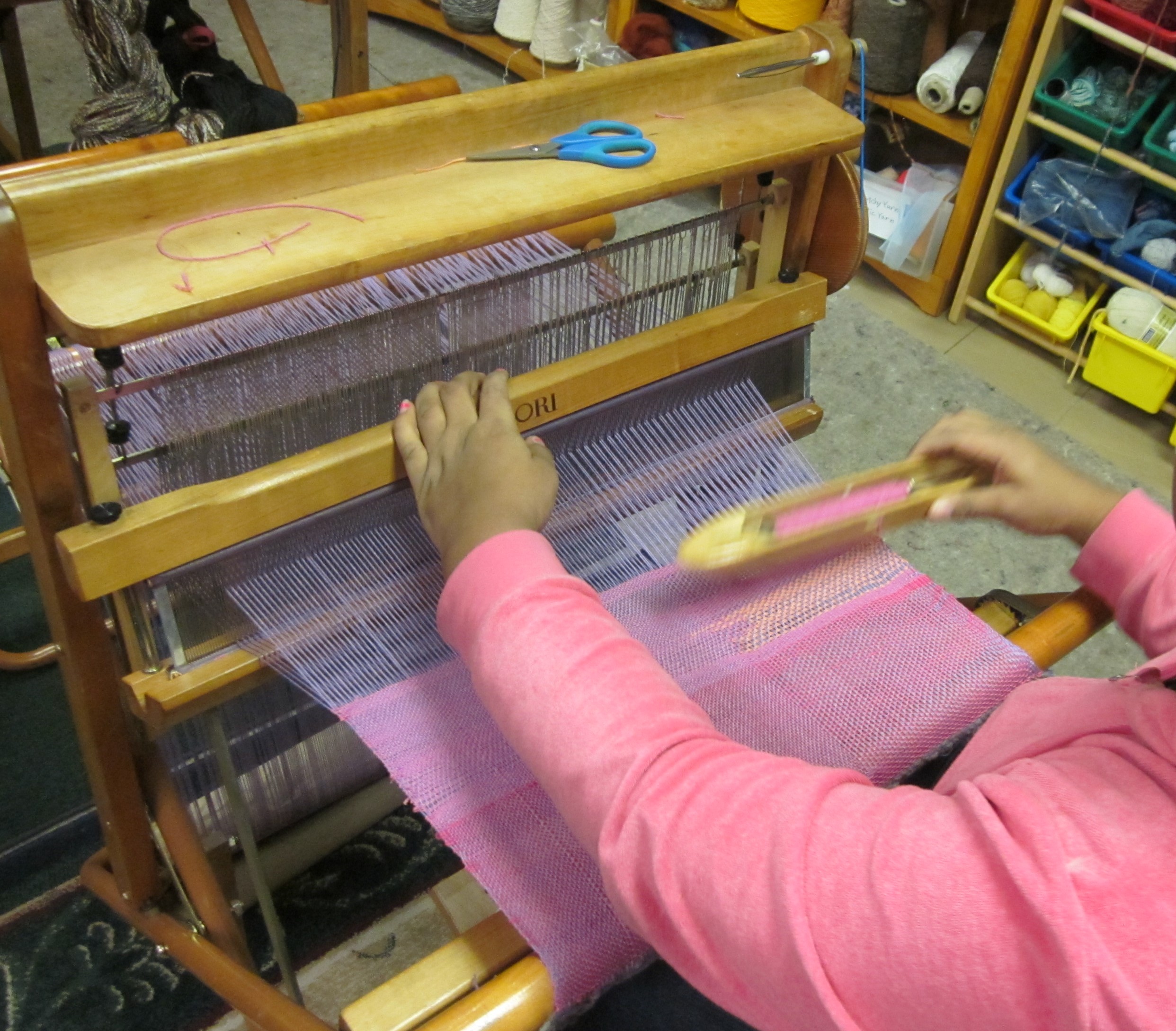 Cancellation Policies
Please read through these policies carefully on our website's policy page. Written notice of cancellations via email (to wccregistration@worcester.edu) is required within specified cancellation windows detailed on our website.
COVID Policies

IMPORTANT COVID Policy UPDATES. Please read carefully:
As of Monday, October 17, 2022, masks will be optional in our studio spaces. Everyone accessing the studio is asked to recognize and accept their role as part of a greater community effort that is required to help maintain the safety of all members by being proactive about health self-assessment, following studio guidelines, and participating fully in the support of sanitization efforts that are required to maintain a healthy work environment. Please be sure to read through the Worcester Center for Crafts' updated COVID policies on our COVID-19 Response Page (
https://www.worcestercraftcenter.org/covid-19-response
).

Inclement Weather Policy
For information on the Craft Center's inclement weather cancellation policies, please visit our website's policy page. Students are encouraged to also check our homepage and our Facebook page for status updates and closure announcements.
Questions? Call us at 508.753.8183 X301
Notes:
f your class is scheduled to occur in the evenings after 5PM or if you arrive on a weekend before 10AM, please enter the facilities through our rear, handicap-accessible Studio Entrance across from the Parking Lot. The front entrance and offices lock at 5PM. As you enter through the Studio Entrance, please take a right if you are looking for the Ceramics Studio. Please take a left if you are looking for the Metals Studio, Lobby, or the Multimedia Studio.
Call us at (508)753-8183 x301 to see if you qualify for a discount on this course.
25 Sagamore Road Multi-Media
| Date | Day | Time | Location |
| --- | --- | --- | --- |
| 08/07/2023 | Monday | 9 AM to 3 PM | 25 Sagamore Road Multi-Media |
| 08/08/2023 | Tuesday | 9 AM to 3 PM | 25 Sagamore Road Multi-Media |
| 08/09/2023 | Wednesday | 9 AM to 3 PM | 25 Sagamore Road Multi-Media |
| 08/10/2023 | Thursday | 9 AM to 3 PM | 25 Sagamore Road Multi-Media |
| 08/11/2023 | Friday | 9 AM to 3 PM | 25 Sagamore Road Multi-Media |