Family Needle Felting
Dates: December 17, 2022
Meets: Sa from 5:00 PM to 8:00 PM
Location: 25 Sagamore Road Multi-Media
Student Fee: $75.00
Let's make adorable needle felted animals! In this class, you will learn how to sculpt animals by using needle felting technique. All materials and tools will be provided and no experience is necessary.
This course is for youth ages 10+ and their parents or guardians.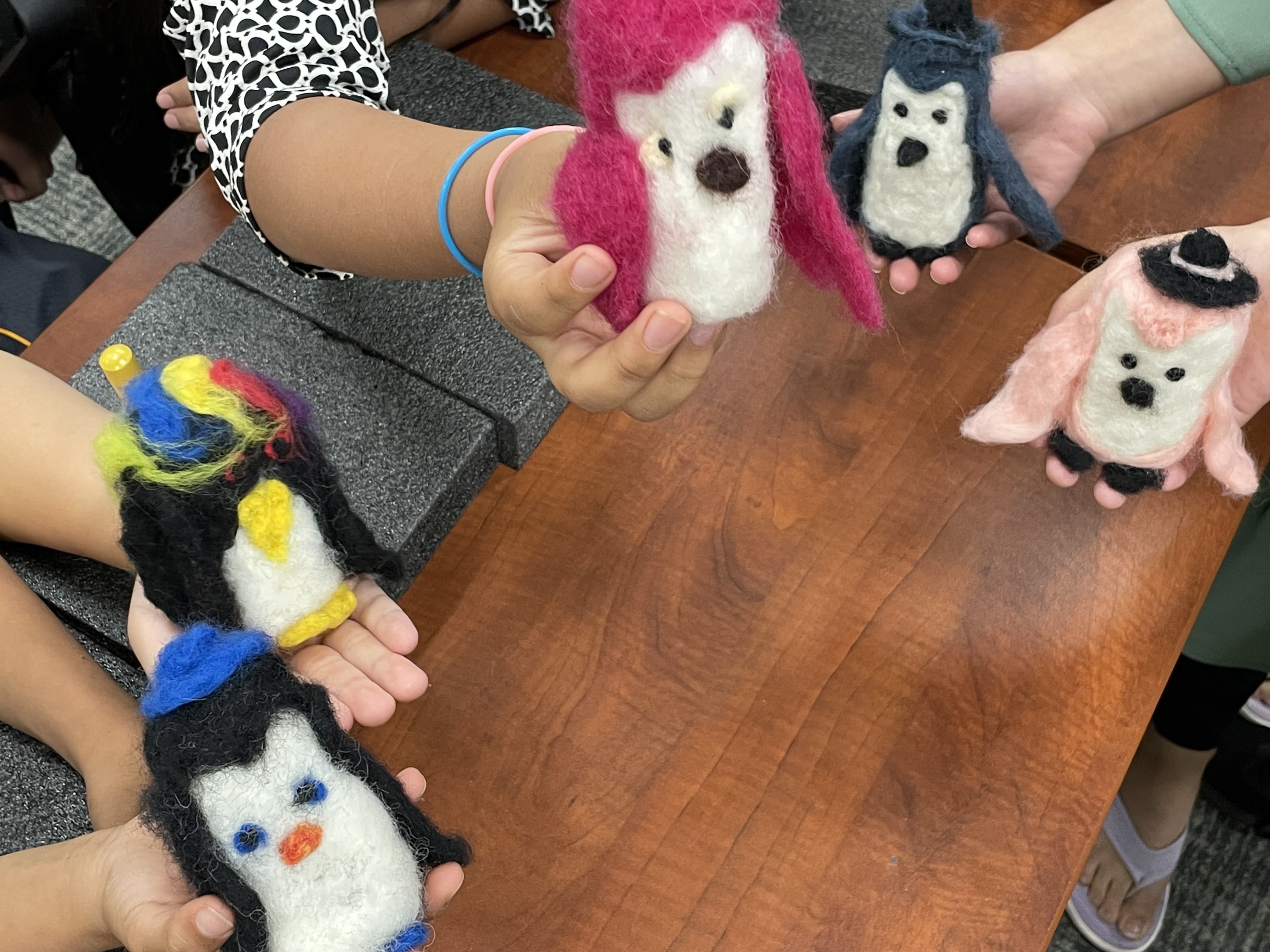 Cancellation Policies
Please read through these policies carefully on our website's policy page. Written notice of cancellations via email (to wccregistration@worcester.edu) is required within specified cancellation windows detailed on our website.
COVID Policies
All registrants are asked to review the Craft Center's COVID-19 Response page for guidance on the safety policies we are asking all students to abide by in our combined efforts to maintain a healthy work environment. Mask wearing continues to be required of all visitors and students in all studios to keep everyone safe regardless of vaccination status. Please review this information on here.
Craft Center COVID Policy Acknowledgement
Every registrant will be expected to complete an electronic form included in their registration receipt acknowledging that they understand and agree to comply with the policies outlined. This form must be submitted no less than 48 hours prior to the start of the first class. If you have submitted this form for a prior registration, you do not need to submit another one.
To access the form, click here or please refer to your emailed registration receipt.

Inclement Weather Policy
For information on the Craft Center's inclement weather cancellation policies, please visit our website's policy page. Students are encouraged to also check our homepage and our Facebook page for status updates and closure announcements.
Questions? Call us at 508.753.8183 X301

Fee Breakdown
| Category | Description | Amount |
| --- | --- | --- |
| Course Fee (Basic) | Student Fee | $ 75.00 |
| Optional Fee | Materials Fee | $ 19.00 |
25 Sagamore Road Multi-Media
Tomo Sakai
Tomo graduated from Tama Art University in Tokyo, Japan, with a specialization in glass, and went on study glass engraving and coldworking in the Czech Republic. She was an artist-in-residence at Worcester Center for Crafts from 2012-2014, and now has her own studio in Worcester. She teaches regularly at the Worcester Center for Crafts, the Massachusetts College of Art and Design, and the Corning Museum of Glass.
Instagram: @cruzesakai
Education


2012-2014 Artist-in-Residence, Worcester Center for Crafts
2004
SUPSS Kamenicky Senov, Czech Republic
2003-2004 VOSS Novy Bor, Czech Republic
2002 Dominik Biman School, Kamenicky Senov, Czech Republic
1998-2002 BFA in glass, Tama Art University, Tokyo, Japan

Artist Statement

"My journey as an artist has been informed by my experience growing up in Japan - the nexus of a profound, traditional past in co-existence and interaction with an energetic, hyper-modern future. My choice of glass as a medium reflects my experience: it is both rooted in traditional techniques while at the same time projecting a modern materiality. I want to capture this reality in my work, balancing the old and the new, honoring tradition and innovation, exploring past and future."

Exhibitions


The Krikorian Gallery, Worcester MA/Eight Elements - 2014
The Krikorian Gallery, Worcester MA/Opposing Directions - 2013
Imago Gallery, Warren RI/December Invitational Show - 2013
Cafe Siesta, Gifu, Japan/Bar Akadama - 2008
Gallery Tamamiseum, Nagoya, Japan/Arts & Crafts - 2007
Decin Museum, Czech Republic/Senovske Sklo Plne Zivota - 2005
Kamenicky Senov Museum, Czech Republic/The exhibition of 4th International Symposium of Engraved Glass - 2005
Koganezaki Crystal Park, Nishi Izu, Japan/Vessels - Exhibition of Contemporary Glass - 2003
Spiral Garden, Aoyama, Japan/Department of Ceramic, Glass and Metal Graduation Works Exhibition - 2002