Fused Glass Jewelry: Pendants
Dates: June 16, 2023
Meets: F from 6:00 PM to 8:00 PM
Location: 25 Sagamore Road Multi-Media -SG
Student Fee: $80.00
Sorry, this course is full.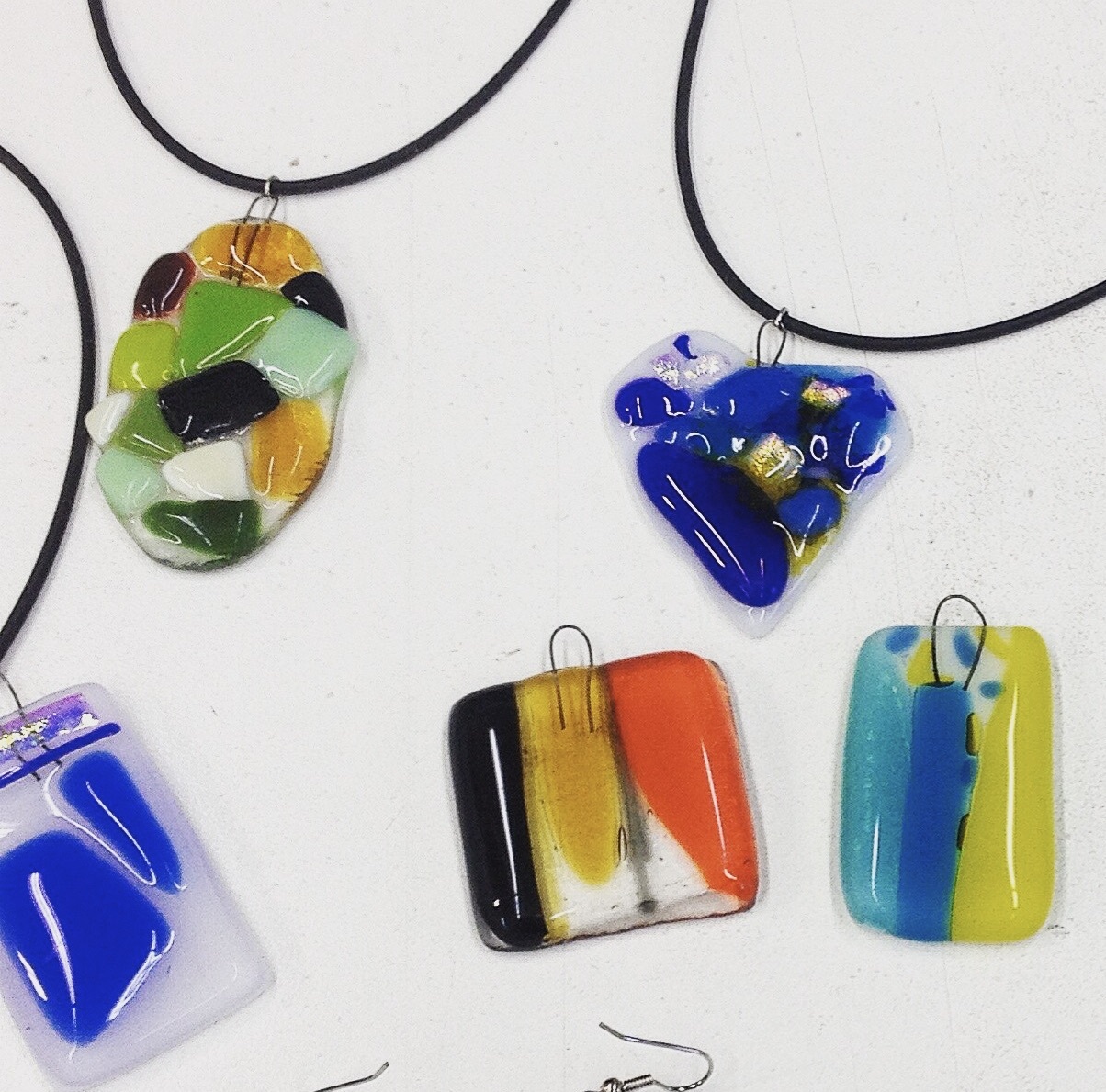 Create your own fused glass pendants with a range of colors provided for you. There will be plenty of templates and ideas for designs or you can bring your own. You'll learn about the basics of cutting and shaping glass for fusing, make 1-2 pieces of jewelry which you'll leave at the end of class for firing, and your finished creations will be ready for you a few days after the class. Makes a great gift! No experience necessary, all materials included.
Cancellation Policies
Please read through these policies carefully on our website's policy page. Written notice of cancellations via email (to wccregistration@worcester.edu) is required within specified cancellation windows detailed on our website.



Inclement Weather Policy


For information on the Craft Center's inclement weather cancellation policies, please visit our website's policy page. Students are encouraged to also check our homepage and our Facebook page for status updates and closure announcements.


WCC Media Release Policy


We may occasionally use photos of students in promotional materials. Enrollment in one of our courses is consent to WCC using photos/videos of your class participation and/or art work in future advertising. If you would prefer WCC to not use photos of yourself or your enrolled family member, please let us know by filling out the media release form located on our website, and submitting it to wccregistration@worcester.edu
If there is a photographer in your course/workshop, kindly remind them that you have withheld consent to be photographed. If WCC is using your photo in current marketing and you would prefer it not to be used, please let us know by emailing wccregistration@worcester.edu
Questions? Call us at 508.753.8183 X301
Notes:
If your class is scheduled to occur in the evenings after 5PM or if you arrive on a weekend before 10AM, please enter the facilities through our rear, handicap-accessible Studio Entrance across from the Parking Lot. The front entrance and offices lock at 5PM. As you enter through the Studio Entrance, please take a right if you are looking for the Ceramics Studio. Please take a left if you are looking for the Metals Studio, Lobby, or the Multimedia Studio.
Fee Breakdown
| Category | Description | Amount |
| --- | --- | --- |
| Course Fee (Basic) | Student Fee | $ 65.00 |
| Mandatory Fee | Materials Fee | $ 15.00 |
25 Sagamore Road Multi-Media -SG
Tomo Sakai
Tomo graduated from Tama Art University in Tokyo, Japan, with a specialization in glass, and went on study glass engraving and coldworking in the Czech Republic. She was an artist-in-residence at Worcester Center for Crafts from 2012-2014, and now has her own studio in Worcester. She teaches regularly at the Worcester Center for Crafts, the Massachusetts College of Art and Design, and the Corning Museum of Glass.
Instagram: @cruzesakai
Education


2012-2014 Artist-in-Residence, Worcester Center for Crafts
2004
SUPSS Kamenicky Senov, Czech Republic
2003-2004 VOSS Novy Bor, Czech Republic
2002 Dominik Biman School, Kamenicky Senov, Czech Republic
1998-2002 BFA in glass, Tama Art University, Tokyo, Japan

Artist Statement

"My journey as an artist has been informed by my experience growing up in Japan - the nexus of a profound, traditional past in co-existence and interaction with an energetic, hyper-modern future. My choice of glass as a medium reflects my experience: it is both rooted in traditional techniques while at the same time projecting a modern materiality. I want to capture this reality in my work, balancing the old and the new, honoring tradition and innovation, exploring past and future."

Exhibitions


The Krikorian Gallery, Worcester MA/Eight Elements - 2014
The Krikorian Gallery, Worcester MA/Opposing Directions - 2013
Imago Gallery, Warren RI/December Invitational Show - 2013
Cafe Siesta, Gifu, Japan/Bar Akadama - 2008
Gallery Tamamiseum, Nagoya, Japan/Arts & Crafts - 2007
Decin Museum, Czech Republic/Senovske Sklo Plne Zivota - 2005
Kamenicky Senov Museum, Czech Republic/The exhibition of 4th International Symposium of Engraved Glass - 2005
Koganezaki Crystal Park, Nishi Izu, Japan/Vessels - Exhibition of Contemporary Glass - 2003
Spiral Garden, Aoyama, Japan/Department of Ceramic, Glass and Metal Graduation Works Exhibition - 2002