Watercolor Techniques
Dates: January 12 - February 16, 2023
Meets: Th from 6:00 PM to 9:00 PM
Location: 25 Sagamore Road Rm 114 Design
Student Fee: $320.00
A painting class that will emphasize technique and its importance in the development of the individual's own style. Complete beginners to more experienced painters are welcome. Beginning painters will learn basic watercolor technique. Intermediate to advanced painters can work on their own projects or polish their technical skills.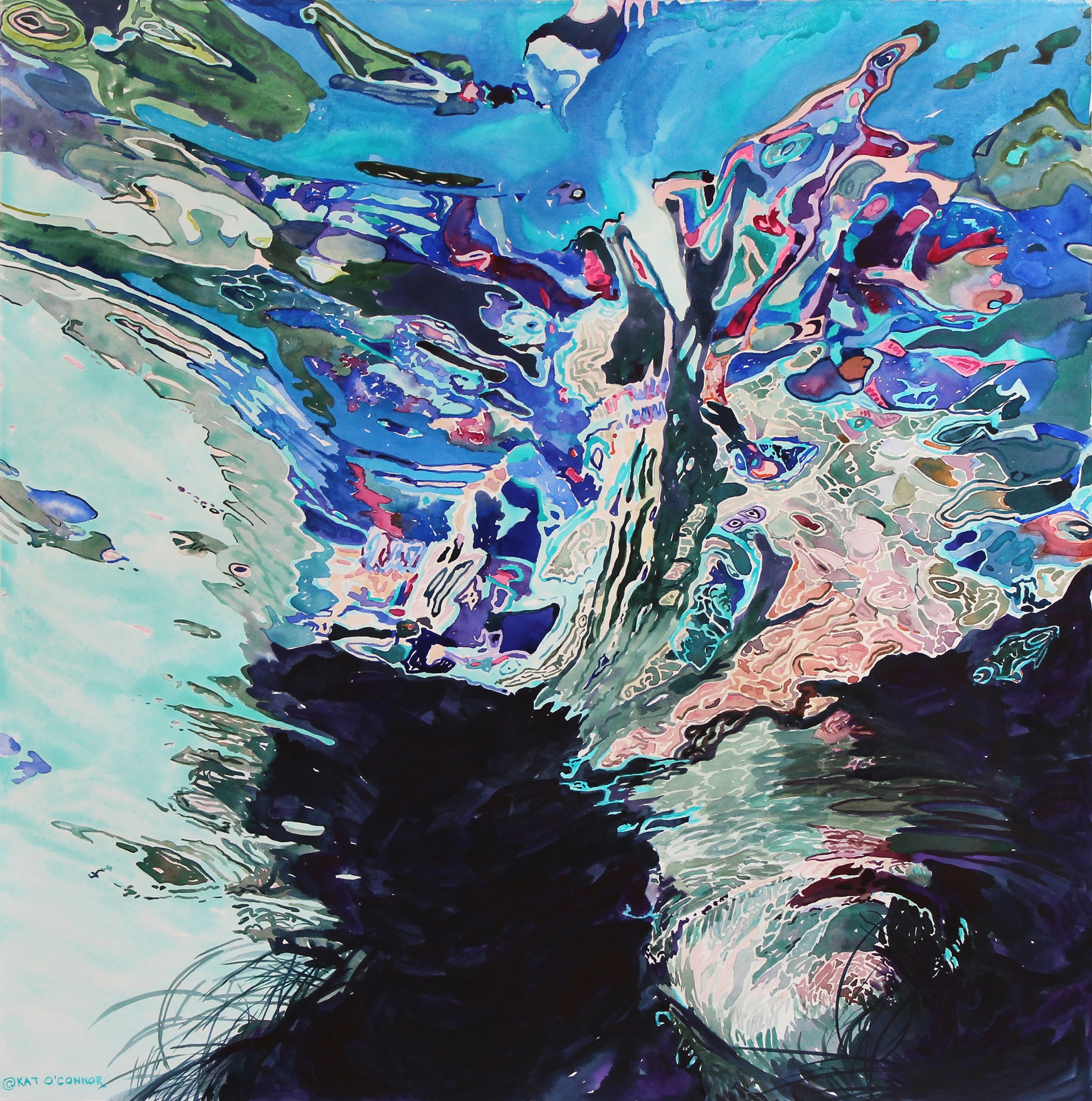 Gravity
Kat O'Connor, 2019
Watercolor
22" X 22"
Supply List For First Class: Pigment: Pthalo Blue (red shade), or Winsor Blue. #12 Round brush (approximately 3/8" diameter where the bristles meet the metal). 1 sheet of the paper listed below, divided and cut into quarters Palette (for the first class this can be a white plate) Pencil, ruler, eraser, sketchbook for note taking

*Beginning students should wait to purchase any other supplies until AFTER the first day of class. Intermediate/advanced students are encouraged to bring their watercolor painting supplies and equipment.*

Day 1
Introduction to watercolor materials. Value in painting.
Day 2
Working with watercolor: methods of application. Basic color theory.
Day 3
Mixing colors: Grays.
Day 4
Mixing colors.
Day 5
Texture in watercolor painting. Color and value.
Day 6
Still Life.
Cancellation Policies
Please read through these policies carefully on our website's policy page. Written notice of cancellations via email (to wccregistration@worcester.edu) is required within specified cancellation windows detailed on our website.
COVID Policies
IMPORTANT COVID Policy UPDATES. Please read carefully:
As of Monday, October 17, 2022, masks will be optional in our studio spaces. Everyone accessing the studio is asked to recognize and accept their role as part of a greater community effort that is required to help maintain the safety of all members by being proactive about health self-assessment, following studio guidelines, and participating fully in the support of sanitization efforts that are required to maintain a healthy work environment. Please be sure to read through the Worcester Center for Crafts' updated COVID policies on our COVID-19 Response Page (
https://www.worcestercraftcenter.org/covid-19-response
).


Inclement Weather Policy


For information on the Craft Center's inclement weather cancellation policies, please visit our website's policy page. Students are encouraged to also check our homepage and our Facebook page for status updates and closure announcements.
Questions? Call us at 508.753.8183 X301


Notes:
If your class is scheduled to occur in the evenings after 5PM or if you arrive on a weekend before 10AM, please enter the facilities through our rear, handicap-accessible Studio Entrance across from the Parking Lot. The front entrance and offices lock at 5PM. As you enter through the Studio Entrance, please take a right if you are looking for the Ceramics Studio. Please take a left if you are looking for the Metals Studio, Lobby, or the Multimedia Studio.
25 Sagamore Road Rm 114 Design
Worcester State University Design Studio
Kat O'Connor
Kat O'Connor earned a Bachelor of Arts in drawing with highest honors from Montana State University in 1990 and a Master of Fine Arts in painting from the University of Texas at San Antonio in 1995. O'Connor was awarded a Mass Cultural Council Fellowship for her drawings in 2018, and is honored to have received a Sam and Adele Golden Foundation for the Arts 2021 Residency. She received an Arts Worcester Material Needs Grant in 2017 and 2021. She is a Copley Master in the Copley Society of Art in Boston, Massachusetts, and her work is included in many private and corporate collections. O'Connor has exhibited her work nationwide, including three solo shows at regional museums, and won numerous awards. O'Connor has shared her love of art with students at Southwest Texas State University, The University of Texas at San Antonio, Worcester State University, Worcester Art Museum, DeCordova Museum and Sculpture Park, and Umbrella Center for the Arts in Concord, Massachusetts. She has lead landscape painting workshops in Maine, New Hampshire, Cape Cod, New Mexico, Italy, and Greece. Her work can be viewed online at www.katopaints.com.
| Date | Day | Time | Location |
| --- | --- | --- | --- |
| 01/12/2023 | Thursday | 6 PM to 9 PM | 25 Sagamore Road Rm 114 Design |
| 01/19/2023 | Thursday | 6 PM to 9 PM | 25 Sagamore Road Rm 114 Design |
| 01/26/2023 | Thursday | 6 PM to 9 PM | 25 Sagamore Road Rm 114 Design |
| 02/02/2023 | Thursday | 6 PM to 9 PM | 25 Sagamore Road Rm 114 Design |
| 02/09/2023 | Thursday | 6 PM to 9 PM | 25 Sagamore Road Rm 114 Design |
| 02/16/2023 | Thursday | 6 PM to 9 PM | 25 Sagamore Road Rm 114 Design |