Watercolor Techniques
| | |
| --- | --- |
| Dates: | January 12 - February 16, 2023 |
| Meets: | Th from 6:00 PM to 9:00 PM |
| Location: | 25 Sagamore Road Multi-Media |
| Cost: | $320.00 |
Sorry, we are no longer accepting registrations for this course. Please contact our office to find out if it will be rescheduled, or if alternative classes are available.
A painting class that will emphasize technique and its importance in the development of the
individual's own style. Complete beginners to more experienced painters are welcome. Beginning
painters will learn basic watercolor technique. Intermediate to advanced painters can work on their
own projects or polish their technical skills.
Intermediate to advanced students will work on classwork and homework projects that increase the
range of their painting abilities. Any painting problems that they may be having will be addressed on
an individual basis in class.
*Intermediate/Advanced students should bring the supplies they are used to working with, and can
add from the beginner list if they wish to update their supplies. Please bring all supplies to first class.
In addition, you will need Waterproof black india ink or drawing ink.
*Beginning students should have ready for first class: Phthalo Blue paint, #12 round brush, 1 sheet of
the paper listed below (divided and cut into quarters), Palette (for the first class this can be a white
plastic plate), Pencil, ruler, eraser, sketchbook for note taking. You can wait until after the first day of
class to purchase the rest of the materials if you are unsure what to get.
Supply List for beginners:
CC Lowell's in Worcester has most if not all these supplies.
Pigments:
M. Graham, QoR, Daniel Smith, Holbien, Utrecht, and Dick Blick are all good brands.
Tube colors, 5 ml:
Cadmium Red, Medium (Napthol Red) Permanent Rose (Quinacradone Rose)
Ultramarine Blue Pthalo Blue (red shade) or Winsor Blue
Quinacradone Gold Bismuth Yellow (Azo Yellow, Hansa yellow)
Burnt Umber
*The QoR introductory set of 12 colors would work perfectly for the class
Optional but great to have:
Pthalo Green (Winsor Green, Blue Shade) Indigo Blue
Permanent Alizarin Crimson Dioxazine Purple
Transparent Pyrrole Orange
Watercolor Brushes:
Rounds (sablette, nylon, or sable) #10, #12
#40 (large round wash brush that comes to a point, approximately 5/8" diameter where the bristles
meet the metal)
½" Flat
1/8" Flat
Painting Surfaces:
At least 5 sheets 22" X 30" or two 10" X 14" or 12" X 16" Blocks. Minimum 140# watercolor paper
(1 rough, 1 hot press, 3 cold press or soft press). Fabriano Artistico or Arches
Other Materials:
Palette- White surface only, minimum 9" X 12" mixing surface
2B pencil
Soft white eraser (Mars Staedler plastic is good)
18" X 24" drawing or painting board
Masking tape
2 water containers
1 squirt bottle
waterproof black drawing ink (India ink).
18" or 24" ruler
Utility knife
Soft paper towels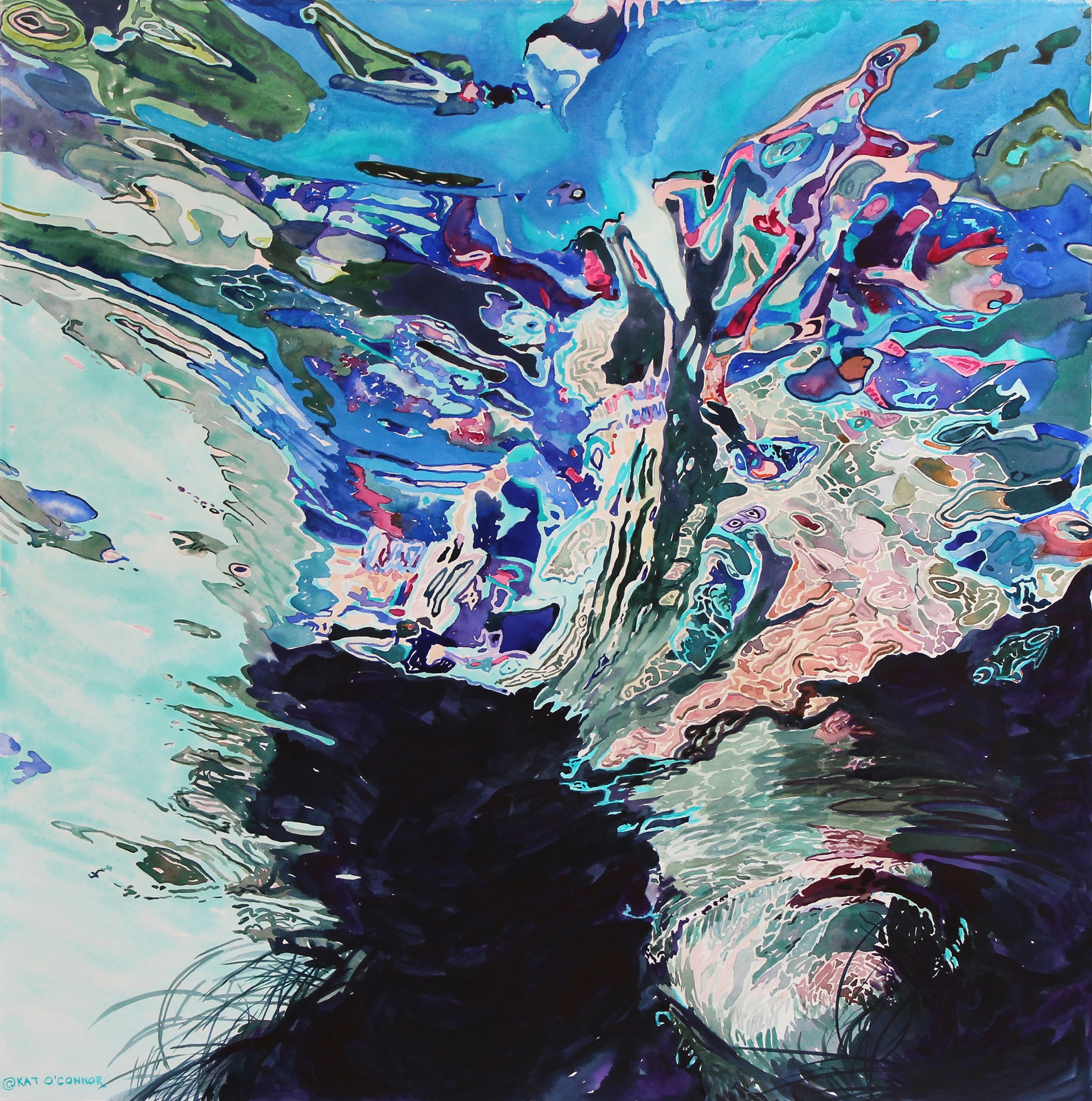 Gravity

Kat O'Connor, 2019

Watercolor

22" X 22"
Cancellation Policies
Please read through these policies carefully on our website's policy page. Written notice of cancellations via email (to wccregistration@worcester.edu) is required within specified cancellation windows detailed on our website.


Inclement Weather Policy


For information on the Craft Center's inclement weather cancellation policies, please visit our website's policy page. Students are encouraged to also check our homepage and our Facebook page for status updates and closure announcements.
WCC Media Release Policy
We may occasionally use photos of students in promotional materials. Enrollment in one of our courses is consent to WCC using photos/videos of your class participation and/or art work in future advertising. If you would prefer WCC to not use photos of yourself or your enrolled family member, please let us know by filling out the media release form located on our website, and submitting it to wccregistration@worcester.edu
If there is a photographer in your course/workshop, kindly remind them that you have withheld consent to be photographed. If WCC is using your photo in current marketing and you would prefer it not to be used, please let us know by emailing wccregistration@worcester.edu
Questions? Call us at 508.753.8183 X301


Notes:
If your class is scheduled to occur in the evenings after 5PM or if you arrive on a weekend before 10AM, please enter the facilities through our rear, handicap-accessible Studio Entrance across from the Parking Lot. The front entrance and offices lock at 5PM. As you enter through the Studio Entrance, please take a right if you are looking for the Ceramics Studio. Please take a left if you are looking for the Metals Studio, Lobby, or the Multimedia Studio.
25 Sagamore Road Multi-Media
Kat O'Connor
Kat O'Connor earned a Bachelor of Arts in drawing with highest honors from Montana State University in 1990 and a Master of Fine Arts in painting from the University of Texas at San Antonio in 1995. O'Connor was awarded a Mass Cultural Council Fellowship for her drawings in 2018, and is honored to have received a Sam and Adele Golden Foundation for the Arts 2021 Residency. She received an Arts Worcester Material Needs Grant in 2017 and 2021. She is a Copley Master in the Copley Society of Art in Boston, Massachusetts, and her work is included in many private and corporate collections. O'Connor has exhibited her work nationwide, including three solo shows at regional museums, and won numerous awards. O'Connor has shared her love of art with students at Southwest Texas State University, The University of Texas at San Antonio, Worcester State University, Worcester Art Museum, DeCordova Museum and Sculpture Park, and Umbrella Center for the Arts in Concord, Massachusetts. She has lead landscape painting workshops in Maine, New Hampshire, Cape Cod, New Mexico, Italy, and Greece. Her work can be viewed online at www.katopaints.com.
| Date | Day | Time | Location |
| --- | --- | --- | --- |
| 01/12/2023 | Thursday | 6 PM to 9 PM | 25 Sagamore Road Multi-Media |
| 01/19/2023 | Thursday | 6 PM to 9 PM | 25 Sagamore Road Multi-Media |
| 01/26/2023 | Thursday | 6 PM to 9 PM | 25 Sagamore Road Multi-Media |
| 02/02/2023 | Thursday | 6 PM to 9 PM | 25 Sagamore Road Multi-Media |
| 02/09/2023 | Thursday | 6 PM to 9 PM | 25 Sagamore Road Multi-Media |
| 02/16/2023 | Thursday | 6 PM to 9 PM | 25 Sagamore Road Multi-Media |