Friday Night Handbuilding
Dates: September 16 - December 9, 2022
Meets: F from 6:30 PM to 9:30 PM
Location: 25 Sagamore Road Handbuilding
Student Fee: $459.00
Sorry, this course is full.
Top off your week in a fun, supportive studio environment with an array of projects, from functional pottery to sculptural forms, as we introduce you to a range of clay-working techniques. Learn traditional forming techniques such as pinch, coil, and slab construction. If you are more experienced, you can pursue your own independent project with guidance from the instructor. Critical dialogue with the instructor and the group, through supportive critique methods, will be encouraged.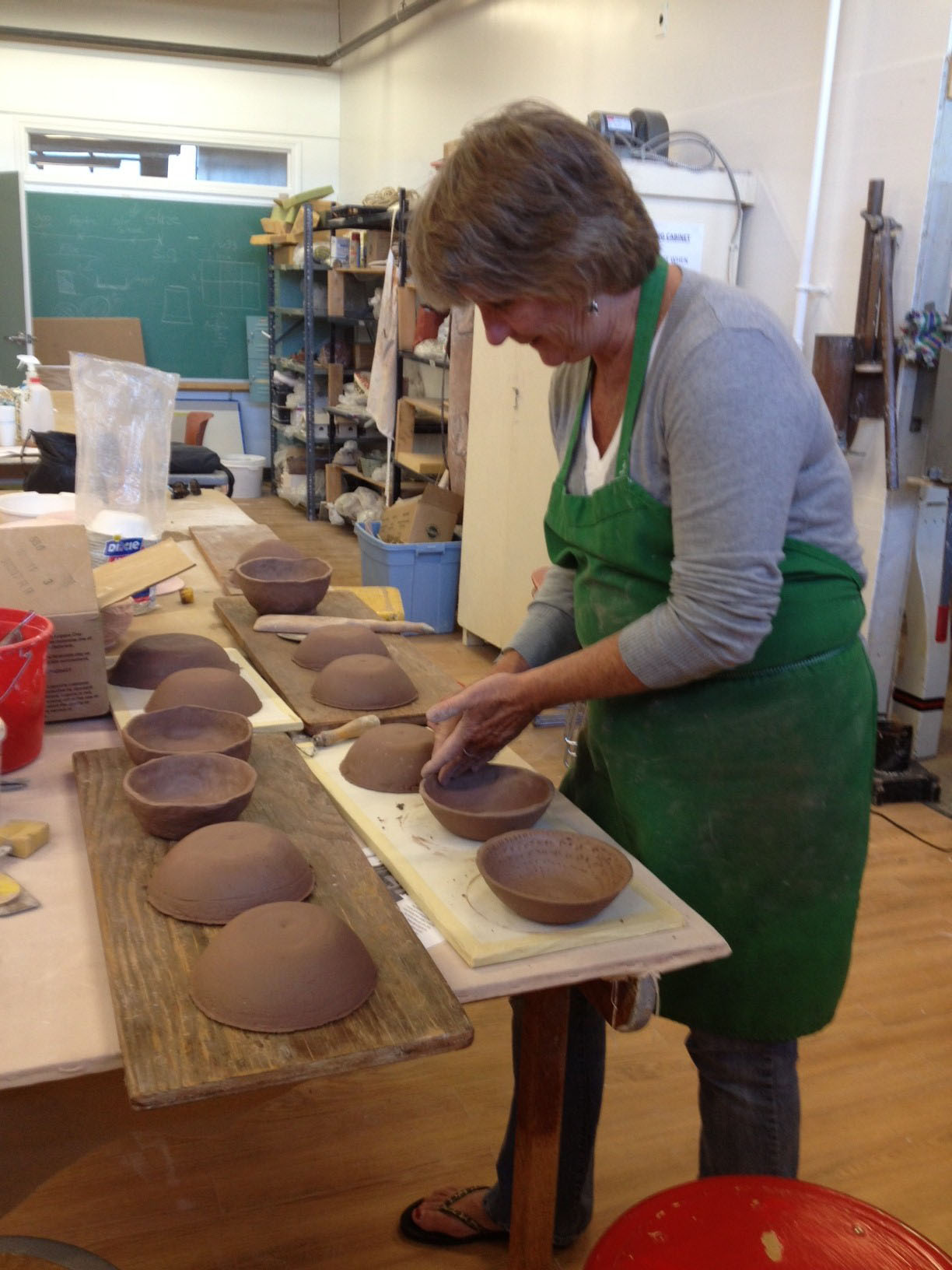 Cancellation Policies
Please read through these policies carefully on our website's policy page. Written notice of cancellations via email (to wccregistration@worcester.edu) is required within specified cancellation windows detailed on our website.
COVID Policies
All registrants are asked to review the Craft Center's COVID-19 Response page for guidance on the safety policies we are asking all students to abide by in our combined efforts to maintain a healthy work environment. Mask wearing continues to be required of all visitors and students in all studios to keep everyone safe regardless of vaccination status. Please review this information on here.
Craft Center COVID Policy Acknowledgement
Every registrant will be expected to complete an electronic form included in their registration receipt acknowledging that they understand and agree to comply with the policies outlined. This form must be submitted no less than 48 hours prior to the start of the first class. If you have submitted this form for a prior registration, you do not need to submit another one.
To access the form, click here or please refer to your emailed registration receipt.

Inclement Weather Policy
For information on the Craft Center's inclement weather cancellation policies, please visit our website's policy page. Students are encouraged to also check our homepage and our Facebook page for status updates and closure announcements.
Questions? Call us at 508.753.8183 X301


Notes:
If your class is scheduled to occur in the evenings after 5PM or if you arrive on a weekend before 10AM, please enter the facilities through our rear, handicap-accessible Studio Entrance across from the Parking Lot. The front entrance and offices lock at 5PM. As you enter through the Studio Entrance, please take a right if you are looking for the Ceramics Studio. Please take a left if you are looking for the Metals Studio or the Multimedia Studio.
| | |
| --- | --- |
| Fee: | $459.00 |
| Hours: | 36.00 |
| CEUs: | 36.00 |
25 Sagamore Road Handbuilding
Elizabeth Peña-Alvarez
Elizabeth Peña-Alvarez is a sculptor based in Cranston, Rhode Island. She received her BFA from Swain School of Design and has received multiple MFA Degrees in Ceramics, one from Rhode Island School of Design and recently University of Massachusetts, Dartmouth. Her work is nationally exhibited, and she is the recipient of the Windgate Fellowship, from the Arrowmont School of Arts and Crafts. Elizabeth has taught art and ceramics at institutions throughout the United States, including; Miami Dade College, UMass Dartmouth, New England Technical Institute. She was born and raised in Miami, Florida, where the abundant and varied vegetation's lasting impact continues to drive her studio work, as she joins the Worcester Center for Crafts as an Artist in Residence and faculty.
@elizabethesther401

| Date | Day | Time | Location |
| --- | --- | --- | --- |
| 09/16/2022 | Friday | 6:30 PM to 9:30 PM | 25 Sagamore Road Handbuilding |
| 09/23/2022 | Friday | 6:30 PM to 9:30 PM | 25 Sagamore Road Handbuilding |
| 09/30/2022 | Friday | 6:30 PM to 9:30 PM | 25 Sagamore Road Handbuilding |
| 10/07/2022 | Friday | 6:30 PM to 9:30 PM | 25 Sagamore Road Handbuilding |
| 10/14/2022 | Friday | 6:30 PM to 9:30 PM | 25 Sagamore Road Handbuilding |
| 10/21/2022 | Friday | 6:30 PM to 9:30 PM | 25 Sagamore Road Handbuilding |
| 10/28/2022 | Friday | 6:30 PM to 9:30 PM | 25 Sagamore Road Handbuilding |
| 11/04/2022 | Friday | 6:30 PM to 9:30 PM | 25 Sagamore Road Handbuilding |
| 11/11/2022 | Friday | 6:30 PM to 9:30 PM | 25 Sagamore Road Handbuilding |
| 11/18/2022 | Friday | 6:30 PM to 9:30 PM | 25 Sagamore Road Handbuilding |
| 12/02/2022 | Friday | 6:30 PM to 9:30 PM | 25 Sagamore Road Handbuilding |
| 12/09/2022 | Friday | 6:30 PM to 9:30 PM | 25 Sagamore Road Handbuilding |