Wheel I: Introduction To Wheelthrowing
Dates: October 25 - December 6, 2022
Meets: Tu from 10:00 AM to 1:00 PM
Location: 25 Sagamore Road Wheelthrowing
Student Fee: $235.00
Sorry, we are no longer accepting registrations for this course. Please contact our office to find out if it will be rescheduled, or if alternative classes are available.
Have you always wanted to learn to use the potter's wheel to turn stoneware clay into vases, bowls, and mugs? This fun, fast-paced class will help you tap into your creativity while learning the basic skills of clay working. From throwing to decorating with high-temperature stains, slips, and glazes, this class will help you develop the skills needed to form and finish your very own pottery.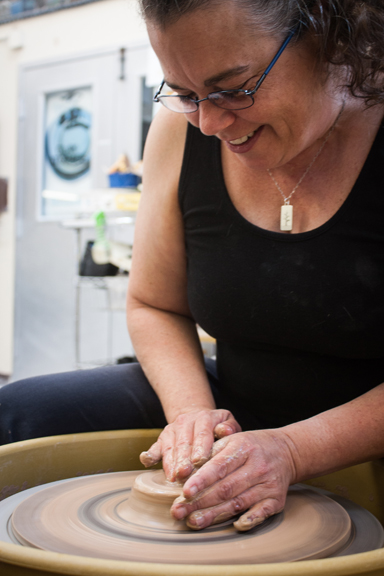 Cancellation Policies
Please read through these policies carefully on our website's policy page. Written notice of cancellations via email (to wccregistration@worcester.edu) is required within specified cancellation windows detailed on our website.
COVID Policies
IMPORTANT COVID Policy UPDATES. Please read carefully:
As of Monday, October 17, 2022, masks will be optional in our studio spaces. Everyone accessing the studio is asked to recognize and accept their role as part of a greater community effort that is required to help maintain the safety of all members by being proactive about health self-assessment, following studio guidelines, and participating fully in the support of sanitization efforts that are required to maintain a healthy work environment. Please be sure to read through the Worcester Center for Crafts' updated COVID policies on our COVID-19 Response Page (
https://www.worcestercraftcenter.org/covid-19-response
).

Inclement Weather Policy
For information on the Craft Center's inclement weather cancellation policies, please visit our website's policy page. Students are encouraged to also check our homepage and our Facebook page for status updates and closure announcements.
Questions? Call us at 508.753.8183 X301


Notes:
A Note to First Time Students: Welcome to the Introduction to the Potter's Wheel class at the Worcester Center for Crafts. Please wear clothes you don't mind getting a little muddy…clay will wash off, but some clays tend to stain light colored fabrics. - Bring and apron or a smock if you want. - Please do not wear open toed shoes. - If you have long hair, please wear a head band, or plan on tying it back when working on the potters wheel. - Please read and follow all studio procedures given to you during the first class. - Clay, glaze and firing cost are included in the price of 25lbs of clay and will cost $40.00 for 25 lbs. This may be paid in cash or by check, bags of clay may be shared. - Bring your pottery tools if you have some, or kits are available for ~$20.00 in the clay studio, or at retailers such as CC Lowel or Michaels. - If you have any old hand towels, bring a couple for drying your hands, as this will help us all be a little greener and not use paper towels. - Have FUN! Thanks and enjoy the class.
| | |
| --- | --- |
| Fee: | $235.00 |
| Hours: | 18.00 |
| CEUs: | 18.00 |
25 Sagamore Road Wheelthrowing
Hailey Angione
Hailey Angione is a jeweler and ceramicist who grew up in New Hampshire. She received a dual degree in Ceramics and Metalsmithing from the University of Massachusetts Dartmouth in 2019. She graduated summa cum laude, has won two awards from the Annual Jewelry Design Competition held by the International Precious Metals Institute, and was a finalist for the 2019 Windgate Fellowship Award.
Hailey makes work inspired by books, old architecture, and history. Using a combination of metal and ceramic she makes vessels and wearable objects. Hailey enjoys experimenting with materials, sharing ideas and techniques, and finding creative solutions to creative problems. She finds joy in helping others make their best work.
View Hailey's work at:
haileyangione.com
| Date | Day | Time | Location |
| --- | --- | --- | --- |
| 10/25/2022 | Tuesday | 10 AM to 1 PM | 25 Sagamore Road Wheelthrowing |
| 11/01/2022 | Tuesday | 10 AM to 1 PM | 25 Sagamore Road Wheelthrowing |
| 11/08/2022 | Tuesday | 10 AM to 1 PM | 25 Sagamore Road Wheelthrowing |
| 11/15/2022 | Tuesday | 10 AM to 1 PM | 25 Sagamore Road Wheelthrowing |
| 11/29/2022 | Tuesday | 10 AM to 1 PM | 25 Sagamore Road Wheelthrowing |
| 12/06/2022 | Tuesday | 10 AM to 1 PM | 25 Sagamore Road Wheelthrowing |