Watercolor Techniques
Dates: September 12 - October 24, 2022
Meets: M from 6:00 PM to 9:00 PM
Location: 25 Sagamore Road Multi-Media
Student Fee: $320.00
A painting class that will emphasize technique and its importance in the development of the individual's own style. Complete beginners to more experienced painters are welcome. Beginning painters will learn basic watercolor technique. Intermediate to advanced painters can work on their own projects or polish their technical skills.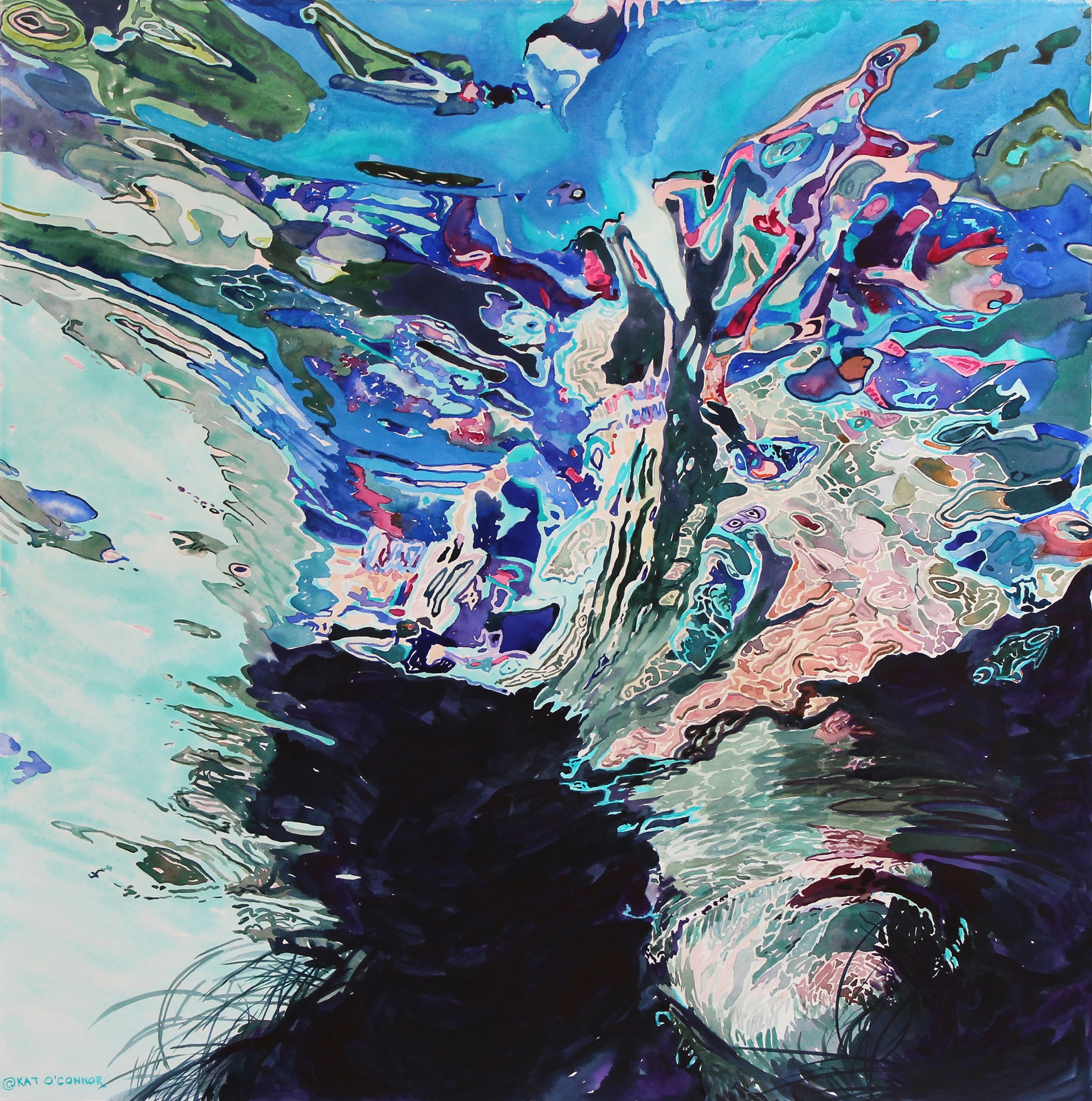 Gravity
Kat O'Connor, 2019
Watercolor
22" X 22"
Supply List For First Class: Pigment: Pthalo Blue (red shade), or Winsor Blue. #12 Round brush (approximately 3/8" diameter where the bristles meet the metal). 1 sheet of the paper listed below, divided and cut into quarters Palette (for the first class this can be a white plate) Pencil, ruler, eraser, sketchbook for note taking

*Beginning students should wait to purchase any other supplies until AFTER the first day of class. Intermediate/advanced students are encouraged to bring their watercolor painting supplies and equipment.*

Day 1 (Sept. 12)
Introduction to watercolor materials. Value in painting.
Day 2 (Sept. 19)
Working with watercolor: methods of application. Basic color theory.
Day 3 (Sept. 26)
Mixing colors: Grays.
Day 4 (Oct. 3)
Mixing colors. *There will be no class Oct. 10*
Day 5 (Oct. 17)
Texture in watercolor painting. Color and value.
Day 6 (Oct. 24)
Still Life.
Cancellation Policies
Please read through these policies carefully on our website's policy page. Written notice of cancellations via email (to wccregistration@worcester.edu) is required within specified cancellation windows detailed on our website.
COVID Policies

All registrants are asked to review the Craft Center's COVID-19 Response page for guidance on the safety policies we are asking all students to abide by in our combined efforts to maintain a healthy work environment. Mask wearing continues to be required of all visitors and students in all studios to keep everyone safe regardless of vaccination status. Please review this information on here


Craft Center COVID Policy Acknowledgement


Every registrant will be expected to complete an electronic form included in their registration receipt acknowledging that they understand and agree to comply with the policies outlined. This form must be submitted no less than 48 hours prior to the start of the first class. If you have submitted this form for a prior registration, you do not need to submit another one.


To access the form, click here or please refer to your emailed registration receipt.



Inclement Weather Policy


For information on the Craft Center's inclement weather cancellation policies, please visit our website's policy page. Students are encouraged to also check our homepage and our Facebook page for status updates and closure announcements.
Questions? Call us at 508.753.8183 X301


25 Sagamore Road Multi-Media
Kat O'Connor
Kat O'Connor earned a Bachelor of Arts in drawing with highest honors from Montana State University in 1990 and a Master of Fine Arts in painting from the University of Texas at San Antonio in 1995. O'Connor was awarded a Mass Cultural Council Fellowship for her drawings in 2018, and is honored to have received a Sam and Adele Golden Foundation for the Arts 2021 Residency. She received an Arts Worcester Material Needs Grant in 2017 and 2021. She is a Copley Master in the Copley Society of Art in Boston, Massachusetts, and her work is included in many private and corporate collections. O'Connor has exhibited her work nationwide, including three solo shows at regional museums, and won numerous awards. O'Connor has shared her love of art with students at Southwest Texas State University, The University of Texas at San Antonio, Worcester State University, Worcester Art Museum, DeCordova Museum and Sculpture Park, and Umbrella Center for the Arts in Concord, Massachusetts. She has lead landscape painting workshops in Maine, New Hampshire, Cape Cod, New Mexico, Italy, and Greece. Her work can be viewed online at www.katopaints.com.
| Date | Day | Time | Location |
| --- | --- | --- | --- |
| 09/12/2022 | Monday | 6 PM to 9 PM | 25 Sagamore Road Multi-Media |
| 09/19/2022 | Monday | 6 PM to 9 PM | 25 Sagamore Road Multi-Media |
| 09/26/2022 | Monday | 6 PM to 9 PM | 25 Sagamore Road Multi-Media |
| 10/03/2022 | Monday | 6 PM to 9 PM | 25 Sagamore Road Multi-Media |
| 10/10/2022 | Monday | 6 PM to 9 PM | 25 Sagamore Road Multi-Media |
| 10/17/2022 | Monday | 6 PM to 9 PM | 25 Sagamore Road Multi-Media |