Metals Studio Jeweler 3D Printing Service
Dates: September 12, 2022 - July 3, 2023
Meets: M from 12 M to 12 N
Location: 25 Sagamore Road Enamels Studio
Studio Fee: $55.00
The Jewelry/Metals department will professionally print your CAD files. We print in castable resin on our Elegoo Mars 2 printers. We will print the entire build plate file that you have sliced and sent in. If you wish for multiple printings, please purchase multiple listings. This listing will allow you to submit 1 printing over the length of the session. Please read below instructions and settings carefully.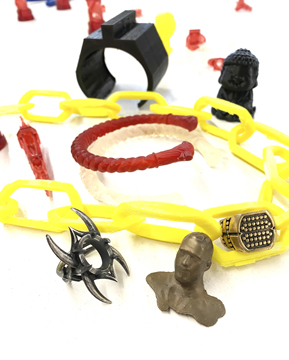 File Information/Requirements:
-Each registration is limited to a 2" x 6" x 6" space on the build plate.
-Pre-sliced files are preferred.

File Type Requirement: You need to be slicing your file with the program Chitubox and selecting Elegoo Mars 2 for the printer. When slicing be sure you are including the file: Base 120x80 centered on the bottom of the build plate when you slice it or else the prints may not adhere. The Base 120x80 STL file download link is provided in the Registration Receipt PDF Attachment.

Printer Settings:
In your chitubox software, please set your printer settings to:
Elegoo Mars 2
Layer Height: 0.050mm
Bottom Lift Distance:5.00mm
Bottom Layer Count: 5 Lifting
Distance: 6mm
Exposure Time: 10.00s
Bottom Retract distance: 5mm
Bottom Exposure Time: 200s
Retract Distance: 6mm
Waiting Mode During Printing: Resting time
Bottom Lift Speed: 100.00mm/min
Rest Time Before Lift: 0.00s
Lifting Speed: 50.00mm/min
Rest Time After List: 0.00s
Bottom Retract Speed: 50.00mm/min
Rest Time After Retract: 0.500s
Retract Speed: 50.00mm/min

Cancellation Policy:
The purchase of this 3D Printing Service listing is non-refundable. No exceptions will be made, so please review the requirements carefully before you register.
Notes:
Next Steps for Students Upon Registering: 1. Please send your printer files directly to Metals Department Coordinator, Julian De La Garza at jdelagarza@worcester.edu. Please remember that pre-sliced files are preferred if you require Castable Resin. 2. Pick-ups arrangements of your printed items must be scheduled in advance with Julian. Please email Julian to discuss pick-up availability directly at the Worcester Center for Crafts ( 25 Sagamore Road, Worcester, MA).
Fee Breakdown
| Category | Description | Amount |
| --- | --- | --- |
| Course Fee (Basic) | Studio Fee | $ 10.00 |
| Mandatory Fee | 3D Printing Build Plate Fee | $ 45.00 |
25 Sagamore Road Enamels Studio
Julian De La Garza
Artist Bio
Julian De La Garza was born in New York, and raised in Rhode Island. He received his BA in Jewelry/Metals from Rhode Island College and then went on to work in the industry. During this period he was a diamond setter for Tiffany & Co. and then a model maker for C & J Jewelry working on high-end jewelry brands such as David Yurman, Haverhill Leech, and Tiffany & Co. All while also continuing his personal studio practice and jewelry business.

Realizing he had always wanted to teach at the college level, he left the stagnancy of the industry and decided to go back to school to obtain his MFA at the University of Massachusetts Dartmouth in Artisanry with a focus on Jewelry/Metals. During his stay at the university he has received high awards for his jewelry design skills through juried competitions and has also had opportunities to teach as well as assist advanced classes.
Check our Julian's website here and his Instagram page here!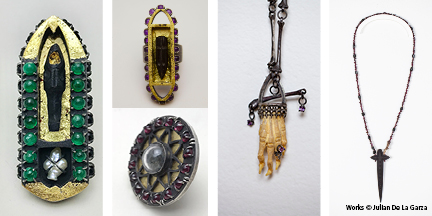 | Date | Day | Time | Location |
| --- | --- | --- | --- |
| 09/12/2022 | Monday | 12M to 12 N | 25 Sagamore Road Enamels Studio |
| 09/19/2022 | Monday | 12M to 12 N | 25 Sagamore Road Enamels Studio |
| 09/26/2022 | Monday | 12M to 12 N | 25 Sagamore Road Enamels Studio |
| 10/03/2022 | Monday | 12M to 12 N | 25 Sagamore Road Enamels Studio |
| 10/10/2022 | Monday | 12M to 12 N | 25 Sagamore Road Enamels Studio |
| 10/17/2022 | Monday | 12M to 12 N | 25 Sagamore Road Enamels Studio |
| 10/24/2022 | Monday | 12M to 12 N | 25 Sagamore Road Enamels Studio |
| 10/31/2022 | Monday | 12M to 12 N | 25 Sagamore Road Enamels Studio |
| 11/07/2022 | Monday | 12M to 12 N | 25 Sagamore Road Enamels Studio |
| 11/14/2022 | Monday | 12M to 12 N | 25 Sagamore Road Enamels Studio |
| 11/28/2022 | Monday | 12M to 12 N | 25 Sagamore Road Enamels Studio |
| 12/05/2022 | Monday | 12M to 12 N | 25 Sagamore Road Enamels Studio |
| 12/12/2022 | Monday | 12M to 12 N | 25 Sagamore Road Enamels Studio |
| 12/19/2022 | Monday | 12M to 12 N | 25 Sagamore Road Enamels Studio |
| 12/26/2022 | Monday | 12M to 12 N | 25 Sagamore Road Enamels Studio |
| 01/02/2023 | Monday | 12M to 12 N | 25 Sagamore Road Enamels Studio |
| 01/09/2023 | Monday | 12M to 12 N | 25 Sagamore Road Enamels Studio |
| 01/16/2023 | Monday | 12M to 12 N | 25 Sagamore Road Enamels Studio |
| 01/23/2023 | Monday | 12M to 12 N | 25 Sagamore Road Enamels Studio |
| 01/30/2023 | Monday | 12M to 12 N | 25 Sagamore Road Enamels Studio |
| 02/06/2023 | Monday | 12M to 12 N | 25 Sagamore Road Enamels Studio |
| 02/13/2023 | Monday | 12M to 12 N | 25 Sagamore Road Enamels Studio |
| 02/20/2023 | Monday | 12M to 12 N | 25 Sagamore Road Enamels Studio |
| 02/27/2023 | Monday | 12M to 12 N | 25 Sagamore Road Enamels Studio |
| 03/06/2023 | Monday | 12M to 12 N | 25 Sagamore Road Enamels Studio |
| 03/13/2023 | Monday | 12M to 12 N | 25 Sagamore Road Enamels Studio |
| 03/20/2023 | Monday | 12M to 12 N | 25 Sagamore Road Enamels Studio |
| 03/27/2023 | Monday | 12M to 12 N | 25 Sagamore Road Enamels Studio |
| 04/03/2023 | Monday | 12M to 12 N | 25 Sagamore Road Enamels Studio |
| 04/10/2023 | Monday | 12M to 12 N | 25 Sagamore Road Enamels Studio |
| 04/17/2023 | Monday | 12M to 12 N | 25 Sagamore Road Enamels Studio |
| 04/24/2023 | Monday | 12M to 12 N | 25 Sagamore Road Enamels Studio |
| 05/01/2023 | Monday | 12M to 12 N | 25 Sagamore Road Enamels Studio |
| 05/08/2023 | Monday | 12M to 12 N | 25 Sagamore Road Enamels Studio |
| 05/15/2023 | Monday | 12M to 12 N | 25 Sagamore Road Enamels Studio |
| 05/22/2023 | Monday | 12M to 12 N | 25 Sagamore Road Enamels Studio |
| 05/29/2023 | Monday | 12M to 12 N | 25 Sagamore Road Enamels Studio |
| 06/05/2023 | Monday | 12M to 12 N | 25 Sagamore Road Enamels Studio |
| 06/12/2023 | Monday | 12M to 12 N | 25 Sagamore Road Enamels Studio |
| 06/19/2023 | Monday | 12M to 12 N | 25 Sagamore Road Enamels Studio |
| 06/26/2023 | Monday | 12M to 12 N | 25 Sagamore Road Enamels Studio |
| 07/03/2023 | Monday | 12M to 12 N | 25 Sagamore Road Enamels Studio |