3D Printing for Jewelers: Digital to Metal
Dates: October 26 - December 7, 2022
Meets: W from 6:00 PM to 9:00 PM
Location: 25 Sagamore Road Enamels Studio
Student Fee: $335.00
3D printing has never been more accessible and less expensive. Take the leap and add 3D printing to your jewelry business toolbox! In this class, learn the basics of the CAD program TinkerCAD, as well as the basics of 3D printer use, maintenance and safety, and the steps needed to prepare the models for casting (either in a home casting setup or through a professional casting company). Each class day will oscillate between demos in the beginning of the class and then working on freshly cast pieces from the previous week. Students will be allowed and encouraged to design in or out of class and can expect to have quite the number of pieces by the end of the course.

Each student will have a casting budget of $25 (about 5 cast pieces) if the student goes over the budget they will be expected to cover the difference in cost.
Class will be 6 weeks long, in person, but students will need to bring a computer or tablet capable of using TinkerCAD.
Week 1: Introduction to 3D modeling (TinkerCAD) - Pendant project
Week 2: Ring modeling workshop/in studio work day
Week 3: Importance of Importing/in studio work day
Week 4: Creating a stone setting/in studio work day
Week 5: in studio work day
Week 6: In studio work day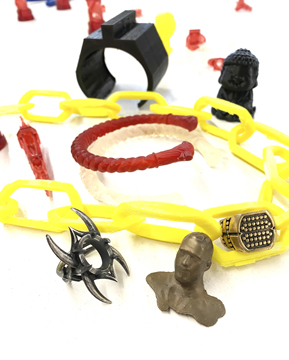 Cancellation Policies
Please read through these policies carefully on our website's policy page. Written notice of cancellations via email (to wccregistration@worcester.edu) is required within specified cancellation windows detailed on our website.
COVID Policies
All registrants are asked to review the Craft Center's COVID-19 Response page for guidance on the safety policies we are asking all students to abide by in our combined efforts to maintain a healthy work environment. Mask wearing continues to be required of all visitors and students in all studios to keep everyone safe regardless of vaccination status. Please review this information on here.
Craft Center COVID Policy Acknowledgement
Every registrant will be expected to complete an electronic form included in their registration receipt acknowledging that they understand and agree to comply with the policies outlined. This form must be submitted no less than 48 hours prior to the start of the first class. If you have submitted this form for a prior registration, you do not need to submit another one.
To access the form, click here or please refer to your emailed registration receipt.

Inclement Weather Policy
For information on the Craft Center's inclement weather cancellation policies, please visit our website's policy page. Students are encouraged to also check our homepage and our Facebook page for status updates and closure announcements.
Questions? Call us at 508.753.8183 X301


Notes:
If your class is scheduled to occur in the evenings after 5PM or if you arrive on a weekend before 10AM, please enter the facilities through our rear, handicap-accessible Studio Entrance across from the Parking Lot. The front entrance and offices lock at 5PM. As you enter through the Studio Entrance, please take a right if you are looking for the Ceramics Studio. Please take a left if you are looking for the Metals Studio or the Multimedia Studio.
| | |
| --- | --- |
| Fee: | $335.00 |
| Hours: | 24.00 |
| CEUs: | 24.00 |
Fee Breakdown
| Category | Description | Amount |
| --- | --- | --- |
| Course Fee (Basic) | Student Fee | $ 240.00 |
| Mandatory Fee | Materials Fee | $ 60.00 |
| Mandatory Fee | Studio Fee | $ 35.00 |
25 Sagamore Road Enamels Studio
Julian De La Garza
Artist Bio
Julian De La Garza was born in New York, and raised in Rhode Island. He received his BA in Jewelry/Metals from Rhode Island College and then went on to work in the industry. During this period he was a diamond setter for Tiffany & Co. and then a model maker for C & J Jewelry working on high-end jewelry brands such as David Yurman, Haverhill Leech, and Tiffany & Co. All while also continuing his personal studio practice and jewelry business.

Realizing he had always wanted to teach at the college level, he left the stagnancy of the industry and decided to go back to school to obtain his MFA at the University of Massachusetts Dartmouth in Artisanry with a focus on Jewelry/Metals. During his stay at the university he has received high awards for his jewelry design skills through juried competitions and has also had opportunities to teach as well as assist advanced classes.
Check our Julian's website here and his Instagram page here!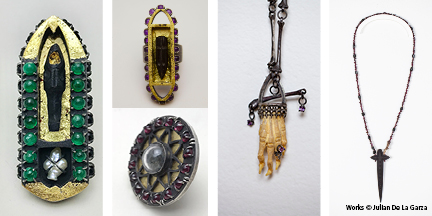 | Date | Day | Time | Location |
| --- | --- | --- | --- |
| 10/26/2022 | Wednesday | 6 PM to 9 PM | 25 Sagamore Road Enamels Studio |
| 11/02/2022 | Wednesday | 6 PM to 9 PM | 25 Sagamore Road Enamels Studio |
| 11/09/2022 | Wednesday | 6 PM to 9 PM | 25 Sagamore Road Enamels Studio |
| 11/16/2022 | Wednesday | 6 PM to 9 PM | 25 Sagamore Road Enamels Studio |
| 11/30/2022 | Wednesday | 6 PM to 9 PM | 25 Sagamore Road Enamels Studio |
| 12/07/2022 | Wednesday | 6 PM to 9 PM | 25 Sagamore Road Enamels Studio |