Wheel II: How to Make Better Pots
Dates: September 14 - October 19, 2022
Meets: W from 6:30 PM to 9:30 PM
Location: 25 Sagamore Road Wheelthrowing
Student Fee: $235.00
Sorry, this course is full.
Express your creativity using the potter's wheel and learn to make better pots. Develop your own ideas and improve your skills and artisanship for form, decoration, and finishing of functional pottery. From mugs to dinnerware and jars, forming and glazing: faculty provides the inspiration and feedback you need to make the pots you want to make.
This class is best suited for intermediate to advanced level wheel-throwers who have taken a minimum of two Wheel I classes and at least one Wheel 1.5 class within the last year and a half.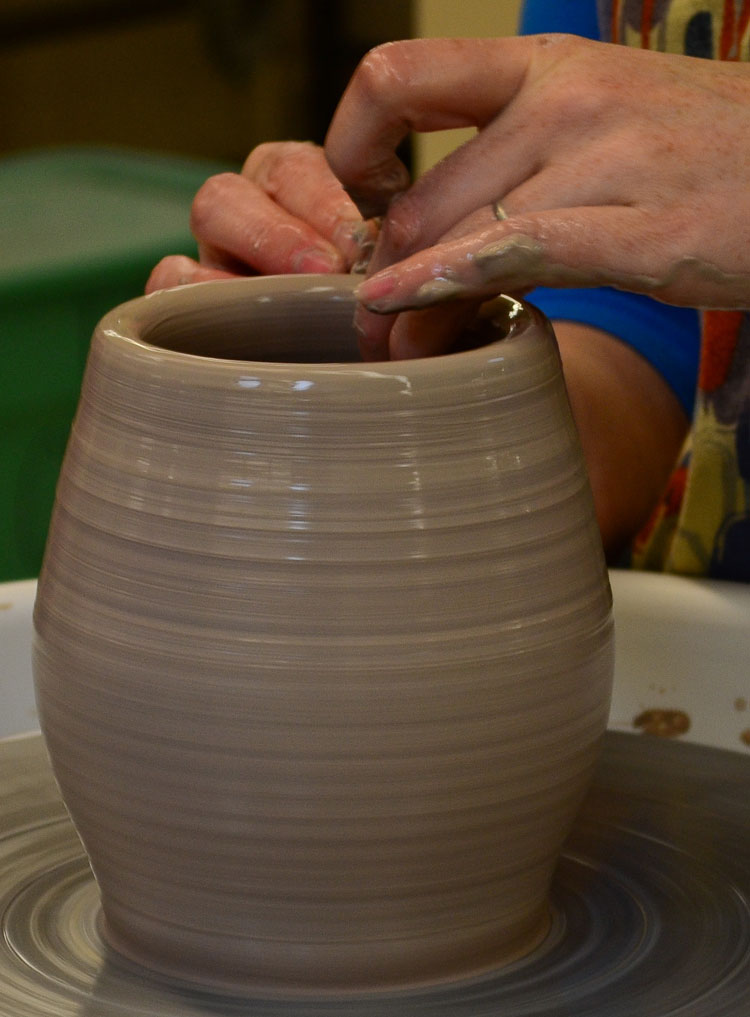 Cancellation Policies
Please read through these policies carefully on our website's policy page. Written notice of cancellations via email (to wccregistration@worcester.edu) is required within specified cancellation windows detailed on our website.
COVID Policies
All registrants are asked to review the Craft Center's COVID-19 Response page for guidance on the safety policies we are asking all students to abide by in our combined efforts to maintain a healthy work environment. Mask wearing continues to be required of all visitors and students in all studios to keep everyone safe regardless of vaccination status. Please review this information on here.
Craft Center COVID Policy Acknowledgement
Every registrant will be expected to complete an electronic form included in their registration receipt acknowledging that they understand and agree to comply with the policies outlined. This form must be submitted no less than 48 hours prior to the start of the first class. If you have submitted this form for a prior registration, you do not need to submit another one.
To access the form, click here or please refer to your emailed registration receipt.

Inclement Weather Policy
For information on the Craft Center's inclement weather cancellation policies, please visit our website's policy page. Students are encouraged to also check our homepage and our Facebook page for status updates and closure announcements.
Questions? Call us at 508.753.8183 X301


Notes:
Pre-requisite: A minimum of two Wheel I classes & at least one Wheel 1.5 class. Materials and firing fees are in addition to tuition. If your class is scheduled to occur in the evenings after 5PM or if you arrive on a weekend before 10AM, please enter the facilities through our rear, handicap-accessible Studio Entrance across from the Parking Lot. The front entrance and offices lock at 5PM. As you enter through the Studio Entrance, please take a right if you are looking for the Ceramics Studio. Please take a left if you are looking for the Metals Studio or the Multimedia Studio.
| | |
| --- | --- |
| Fee: | $235.00 |
| Hours: | 18.00 |
| CEUs: | 18.00 |
25 Sagamore Road Wheelthrowing
| Date | Day | Time | Location |
| --- | --- | --- | --- |
| 09/14/2022 | Wednesday | 6:30 PM to 9:30 PM | 25 Sagamore Road Wheelthrowing |
| 09/21/2022 | Wednesday | 6:30 PM to 9:30 PM | 25 Sagamore Road Wheelthrowing |
| 09/28/2022 | Wednesday | 6:30 PM to 9:30 PM | 25 Sagamore Road Wheelthrowing |
| 10/05/2022 | Wednesday | 6:30 PM to 9:30 PM | 25 Sagamore Road Wheelthrowing |
| 10/12/2022 | Wednesday | 6:30 PM to 9:30 PM | 25 Sagamore Road Wheelthrowing |
| 10/19/2022 | Wednesday | 6:30 PM to 9:30 PM | 25 Sagamore Road Wheelthrowing |