Introduction to Handbuilding
Dates: September 14 - October 19, 2022
Meets: W from 6:45 PM to 9:45 PM
Location: 25 Sagamore Road Handbuilding
Student Fee: $235.00
Sorry, this course is full.
Handbuilding offers the beginning student a moderately paced introduction to working with clay while learning some of the basic methods for hand building, developing knowledge for pinching, slab-building, and working with slump molding. Tap into your creativity while exploring construction design and surface treatments to create a variety of table wares. Your instructor will guide you all along the way with both class presentations and demonstrations, as well as personalized attention. A great entry level class to get your hands dirty!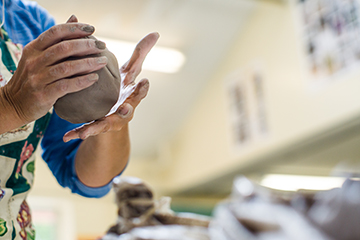 Cancellation Policies
Please read through these policies carefully on our website's policy page. Written notice of cancellations via email (to wccregistration@worcester.edu) is required within specified cancellation windows detailed on our website.
COVID Policies
All registrants are asked to review the Craft Center's COVID-19 Response page for guidance on the safety policies we are asking all students to abide by in our combined efforts to maintain a healthy work environment. Mask wearing continues to be required of all visitors and students in all studios to keep everyone safe regardless of vaccination status. Please review this information on here.
Craft Center COVID Policy Acknowledgement
Every registrant will be expected to complete an electronic form included in their registration receipt acknowledging that they understand and agree to comply with the policies outlined. This form must be submitted no less than 48 hours prior to the start of the first class. If you have submitted this form for a prior registration, you do not need to submit another one.
To access the form, click here or please refer to your emailed registration receipt.

Inclement Weather Policy
For information on the Craft Center's inclement weather cancellation policies, please visit our website's policy page. Students are encouraged to also check our homepage and our Facebook page for status updates and closure announcements.
Questions? Call us at 508.753.8183 X301


Notes:
Note on Schedule: This class has been deliberately scheduled for 6:45-9:45PM in order to stagger class entry into the studio.

Materials and firing fees are in addition to tuition. A Note to First Time Students: Welcome to the Introduction to Handbuilding! Please wear clothes you don't mind getting a little muddy…clay will wash off, but some clays tend to stain light colored fabrics. - Bring and apron or a smock if you want. - Please do not wear open toed shoes. - Please read and follow all studio procedures given to you during the first class. - Clay, glaze and firing cost are included in the price of 25lbs of clay and will cost $37.00 for 25 lbs. This may be paid in cash or by check, bags of clay may be shared. - If you have any old hand towels, bring a couple for drying your hands, as this will help us all be a little greener and not use paper towels. - Have FUN! Thanks and enjoy the class.
| | |
| --- | --- |
| Fee: | $235.00 |
| Hours: | 18.00 |
| CEUs: | 18.00 |
25 Sagamore Road Handbuilding
Miryana Mihaylova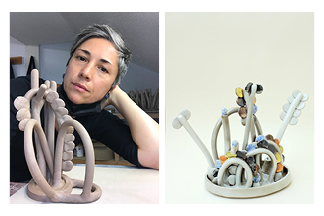 "A decade changes mountains and streams might be the right saying for my transition from functional ceramics to sculpture. I paint, draw and hand-build dark branches, wavy coil structures, flames out of shadows, shrubs, and silhouettes.
The objects that I create cast shadows out of which subdued hues of rainbow emerge in the sunlight. Air flows through the forms. The time is passing by, and we are changing with it."
Check out Miryana's Instagram page here.
| Date | Day | Time | Location |
| --- | --- | --- | --- |
| 09/14/2022 | Wednesday | 6:45 PM to 9:45 PM | 25 Sagamore Road Handbuilding |
| 09/21/2022 | Wednesday | 6:45 PM to 9:45 PM | 25 Sagamore Road Handbuilding |
| 09/28/2022 | Wednesday | 6:45 PM to 9:45 PM | 25 Sagamore Road Handbuilding |
| 10/05/2022 | Wednesday | 6:45 PM to 9:45 PM | 25 Sagamore Road Handbuilding |
| 10/12/2022 | Wednesday | 6:45 PM to 9:45 PM | 25 Sagamore Road Handbuilding |
| 10/19/2022 | Wednesday | 6:45 PM to 9:45 PM | 25 Sagamore Road Handbuilding |