Teens at the Wheel (14-17 years)
Dates: May 25 - June 29, 2022
Meets: W from 4:00 PM to 6:00 PM
Location: 25 Sagamore Road Wheelthrowing
Student Fee: $225.00
There are 4 openings remaining at this time.
Take a seat at the wheel! Instructor demonstration and hands-on exploration will grow your ceramics techniques while developing your own unique style. A mix of instructor-led and free-choice projects make this class great for 14-17 year old returning students and students beginning or growing their ceramics art portfolio. Being creative can get messy, so please dress for mess!
Please note that due to the curriculum and instructional design of this class, no exceptions to the age limits on this teen course (14-17 years) may be granted at this time.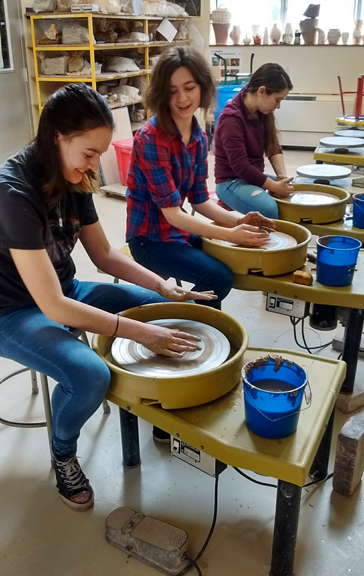 Cancellation Policies
Please read through these policies carefully on our website's policy page. Written notice of cancellations via email (to wccregistration@worcester.edu) is required within specified cancellation windows detailed on our website.
COVID Policies
All registrants are asked to review the Craft Center's COVID-19 Response page for guidance on the safety policies we are asking all students to abide by in our combined efforts to maintain a healthy work environment. Mask wearing continues to be required of all visitors and students in all studios to keep everyone safe regardless of vaccination status. Please review this information on here.
Craft Center COVID Policy Acknowledgement
Every registrant will be expected to complete an electronic form included in their registration receipt acknowledging that they understand and agree to comply with the policies outlined. This form must be submitted no less than 48 hours prior to the start of the first class. If you have submitted this form for a prior registration, you do not need to submit another one.
To access the form, click here or please refer to your emailed registration receipt.

Inclement Weather Policy
For information on the Craft Center's inclement weather cancellation policies, please visit our website's policy page. Students are encouraged to also check our homepage and our Facebook page for status updates and closure announcements.
Questions? Call us at 508.753.8183 X301


Notes:


For Youth & Teen Program Enrollments:
-Parents/Guardians, upon completing your registration, please complete the Photo Release Waiver Form on behalf of your child via this link: https://forms.gle/Z7pCM3sPDaqWXRvx7
-Please also review the Youth & Teen Program guide and forms that will be attached to your receipt.
-Kids & Teens, please dress for mess and be ready to have fun! For studio safety compliance, please wear close-toed shoes, pants or shorts that go below the knee, and long hair should be pulled back from the face and secured.
| | |
| --- | --- |
| Fee: | $225.00 |
| Hours: | 12.00 |
| CEUs: | 12.00 |
25 Sagamore Road Wheelthrowing
Kristen Angelos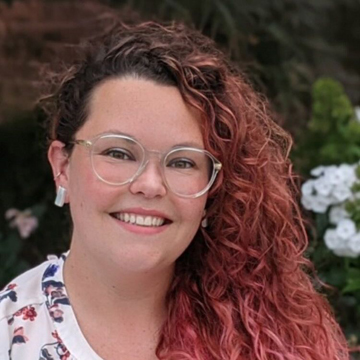 Kristen Angelos (she/her/hers) is a ceramic artist, public educator, and Honk! musician located in the Providence area. She served as a special education paraprofessional, tutor and education coach for close to a decade and focuses on creating a positive, inclusive and accessible classroom. She obtained a BS in Music at Northeastern University, but spent much of her free time at the MFA, ICA and Boston Open Studios. She is very excited to be an Artist-in-Residence for the Worcester Center for Crafts for the 2021-22 year!
Her work considers the practical functionality and user experience and centers around meditative interaction, like slowly sipping tea or caring for plants. Her work urges the users to engage with the work in a way that they feel wonder, calm, contemplation and joy; encouraged to admire the tiny details. Her great fondness for tea drinking, organic textures and shapes, antique finds, houseplants, and color interaction all heavily influence her delicate, wheel-thrown tea bowls, mugs, and planters. She studies glaze recipes and chemistry to create unique glaze colors and textures that when layered create interactions and motion in both electric and gas kilns.
Kristen has studied ceramics under Mazin Adam and Mark Zellers at the Community College of Rhode Island. She has been invited to exhibit work in the staff show at Providence CityArts for Youth, the Fall 2020 Student Exhibition at CCRI, 119 Gallery, and at the Rhode Island Realtors Association. She has previously worked with the Volunteer Lawyers for the Arts of MA, the Fitchburg Art Museum, 119 Gallery and Providence CityArts for Youth. Follow her work on IG @rainbowhomestudios.
| Date | Day | Time | Location |
| --- | --- | --- | --- |
| 05/25/2022 | Wednesday | 4 PM to 6 PM | 25 Sagamore Road Wheelthrowing |
| 06/01/2022 | Wednesday | 4 PM to 6 PM | 25 Sagamore Road Wheelthrowing |
| 06/08/2022 | Wednesday | 4 PM to 6 PM | 25 Sagamore Road Wheelthrowing |
| 06/15/2022 | Wednesday | 4 PM to 6 PM | 25 Sagamore Road Wheelthrowing |
| 06/22/2022 | Wednesday | 4 PM to 6 PM | 25 Sagamore Road Wheelthrowing |
| 06/29/2022 | Wednesday | 4 PM to 6 PM | 25 Sagamore Road Wheelthrowing |