Fiber & Paper Series: Tapestry Sampler (18 yrs+)
Dates: November 17-18, 2021
Meets: W and Th from 10:00 AM to 4:00 PM
Location: 25 Sagamore Road Multi-Media
Student Fee: $410.00
Tapestry weaving is an ancient technique, known as painting with fiber, used by many cultures such as the classic Navajo style to very contemporary usage in wearable and non-wearable textiles. The possibilities. for creativity with tapestry are endless and incredibly rewarding.
With no previous experience necessary, this course will guide you through the process of warping a rigid heddle loom for tapestry and weaving a sampler that combines a mix of skills, which include weaving shapes, vertical pillars, interlocking and joining techniques. pick and pick, and blending colors. A variety of traditional and non-traditional yarns will be available for weaving exploration. The student will complete their tapestry by the end of the class, utilizing a variety of finishing techniques for properly displaying their sampler.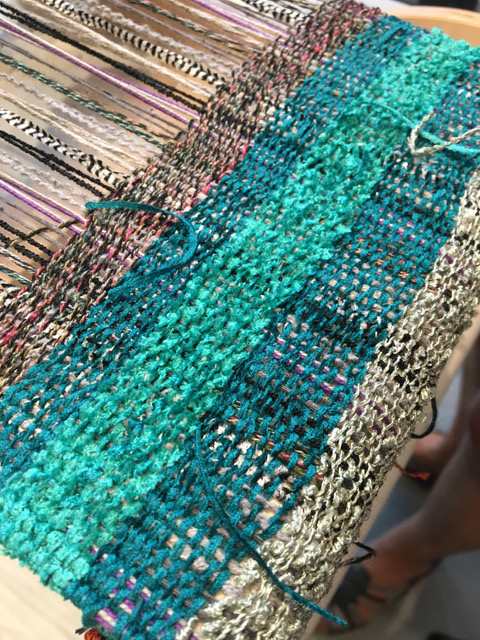 Cancellation Policies
Please read through these policies carefully on our website's policy page. Written notice of cancellations via email (to wccregistration@worcester.edu) is required within specified cancellation windows detailed on our website.
COVID Policies
All registrants are asked to review the Craft Center's COVID-19 Response page for guidance on the safety policies we are asking all students to abide by in our combined efforts to maintain a healthy work environment. Mask wearing continues to be required of all visitors and students in all studios to keep everyone safe regardless of vaccination status. Please review this information on here.
Craft Center COVID Policy Acknowledgement
Every registrant will be expected to complete an electronic form included in their registration receipt acknowledging that they understand and agree to comply with the policies outlined. This form must be submitted no less than 48 hours prior to the start of the first class. If you have submitted this form for a prior registration, you do not need to submit another one.
To access the form, click here or please refer to your emailed registration receipt.

Inclement Weather Policy
For information on the Craft Center's inclement weather cancellation policies, please visit our website's policy page. Students are encouraged to also check our homepage and our Facebook page for status updates and closure announcements.
Questions? Call us at 508.753.8183 X301


25 Sagamore Road Multi-Media
| Date | Day | Time | Location |
| --- | --- | --- | --- |
| 11/17/2021 | Wednesday | 10 AM to 4 PM | 25 Sagamore Road Multi-Media |
| 11/18/2021 | Thursday | 10 AM to 4 PM | 25 Sagamore Road Multi-Media |