Fiber & Paper Series: Intro to Rigid Heddle Weaving (18 yrs+)
Dates: April 12-14, 2022
Meets: Tu, W and Th from 10:00 AM to 4:00 PM
Location: 25 Sagamore Road Multi-Media
Student Fee: $533.00
This 3-day course is designed to give students a thorough grounding in hand weaving on a rigid heddle loom. We will cover direct warping, foundational weaving skills such a plain weave and tapestry, and will complete an infinity scarf and a tapestry during this class. The student will learn to weave and make decisions which lead to successful weaving projects, and develop their own distinctive voice as a weaver. All looms and materials will be provided, and no experience is necessary. experience is necessary.
Day 1-Weave a handwoven infinity scarf on a pre-warped rigid heddle loom using colors and textures of your choosing. No previous experience is required, and you will complete a wearable finished infinity scarf by the end of the day.
Day 2-Warp and dress a rigid heddle loom through the direct warping method. We will cover the importance of making correct yarn choices, and type and composition of yarns, calculating yarn requirements for projects "sett" analyses and fabric finishing techniques. Various tapestry techniques will be covered in order to design a small tapestry for the following day.
Day 3 - Warping and weaving tapestry wall hanging. The possibilities for creativity are endless with tapestry. Students will warp the loom for tapestry and use multiple tapestry joining techniques to create an individual design for a small tapestry wall hanging. Both traditional and non-traditional yarns will be made available for individual self-expression.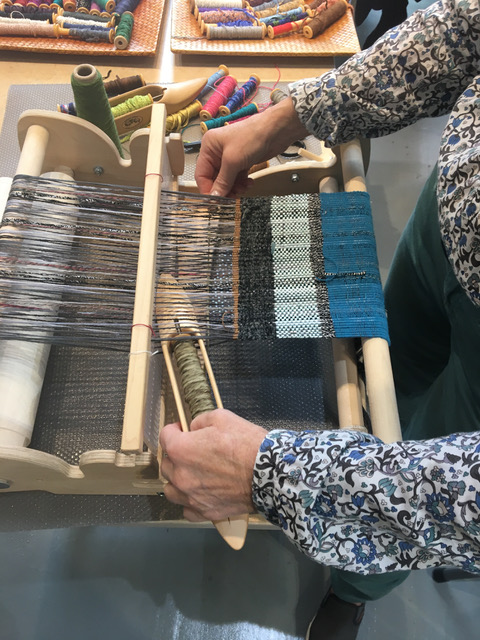 Cancellation Policies
Please read through these policies carefully on our website's policy page. Written notice of cancellations via email (to wccregistration@worcester.edu) is required within specified cancellation windows detailed on our website.
COVID Policies
All registrants are asked to review the Craft Center's COVID-19 Response page for guidance on the safety policies we are asking all students to abide by in our combined efforts to maintain a healthy work environment. Mask wearing continues to be required of all visitors and students in all studios to keep everyone safe regardless of vaccination status. Please review this information on here.
Craft Center COVID Policy Acknowledgement
Every registrant will be expected to complete an electronic form included in their registration receipt acknowledging that they understand and agree to comply with the policies outlined. This form must be submitted no less than 48 hours prior to the start of the first class. If you have submitted this form for a prior registration, you do not need to submit another one.
To access the form, click here or please refer to your emailed registration receipt.

Inclement Weather Policy
For information on the Craft Center's inclement weather cancellation policies, please visit our website's policy page. Students are encouraged to also check our homepage and our Facebook page for status updates and closure announcements.
Questions? Call us at 508.753.8183 X301


25 Sagamore Road Multi-Media
| Date | Day | Time | Location |
| --- | --- | --- | --- |
| 04/12/2022 | Tuesday | 10 AM to 4 PM | 25 Sagamore Road Multi-Media |
| 04/13/2022 | Wednesday | 10 AM to 4 PM | 25 Sagamore Road Multi-Media |
| 04/14/2022 | Thursday | 10 AM to 4 PM | 25 Sagamore Road Multi-Media |