Wheel I: Introduction To Wheelthrowing
Dates:

February 25 - March 31, 2020  Check for other dates

Meets:

Tu from 6:30 PM to 9:30 PM, 6 sessions

Hours:

18.00

CEUS:

18.00

Location:

Instructor:

Fee:

$204  

Notes:

A Note to First Time Students: Welcome to the Introduction to the Potter's Wheel class at the Worcester Center for Crafts. Please wear clothes you don't mind getting a little muddy…clay will wash off, but some clays tend to stain light colored fabrics. -Bring and apron or a smock if you want. -Please do not wear open toed shoes. -If you have long hair, please wear a head band, or plan on tying it back when working on the potters wheel. -Please read and follow all studio procedures given to you during the first class. -Clay, glaze and firing cost are included in the price of 25lbs of clay and will cost $37.00 for 25 lbs. This may be paid in cash or by check, bags of clay may be shared. -Bring your pottery tools if you have some, or kits are available for ~$20.00 in the clay studio, or at retailers such as CC Lowel or Michaels. -If you have any old hand towels, bring a couple for drying your hands, as this will help us all be a little greener and not use paper towels. -Have FUN! Thanks and enjoy the class. If your class is scheduled to occur in the evenings after 5PM or if you arrive on a weekend before 10AM, please enter the facilities through our rear, handicap-accessible Studio Entrance across from the Parking Lot. The front entrance and offices lock at 5PM. As you enter through the Studio Entrance, please take a right if you are looking for the Ceramics Studio. Please take a left if you are looking for the Metals Studio or the Multimedia Studio.
Sorry, this course is full.
Course Description
Have you always wanted to learn to use the potter's wheel to turn stoneware clay into vases, bowls, and mugs? This fun, fast-paced class will help you tap into your creativity while learning the basic skills of clay working. From throwing to decorating with high-temperature stains, slips, and glazes, this class will help you develop the skills needed to form and finish your very own pottery.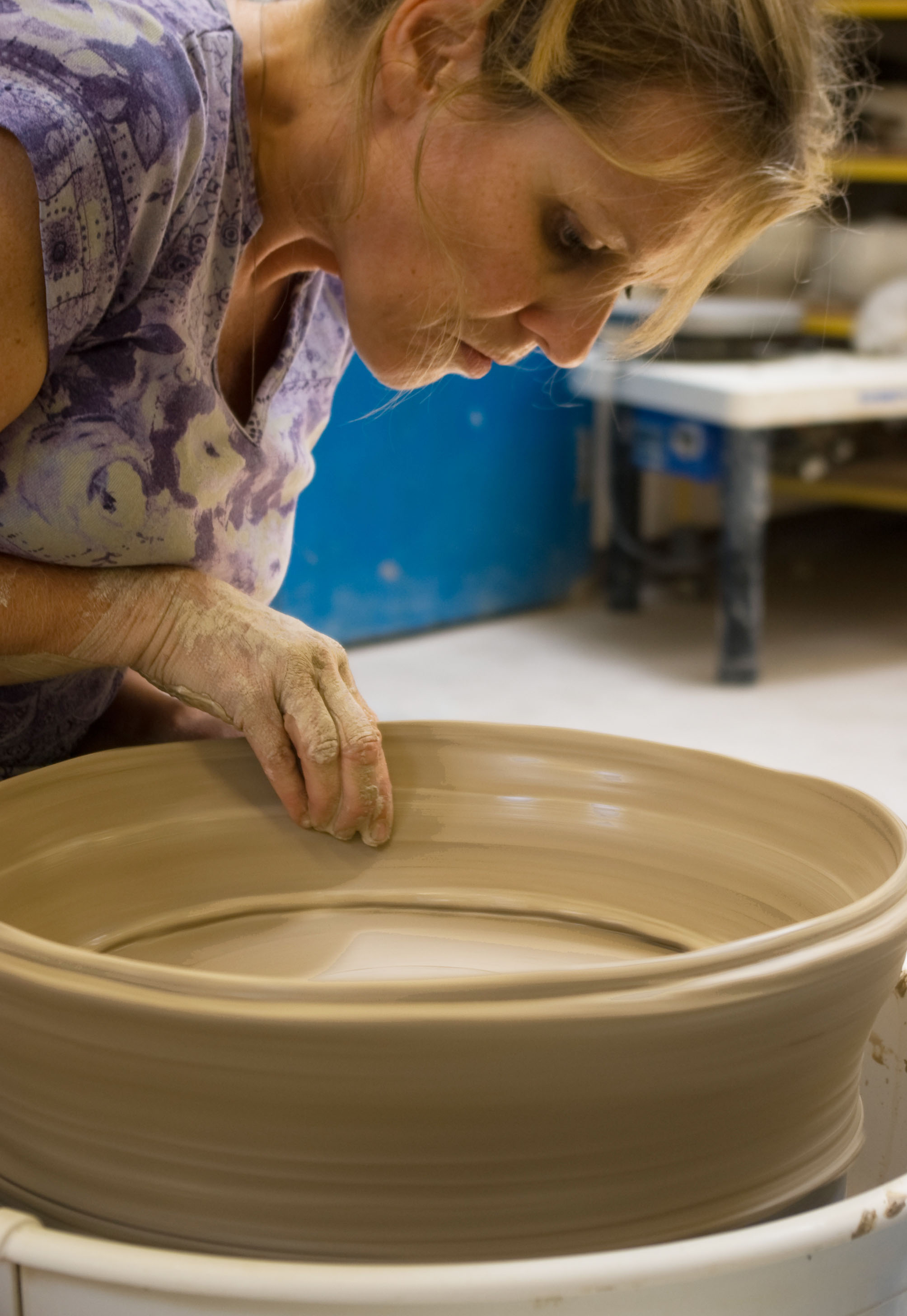 Refund Policy
A refund is given upon request in writing (Please email wccregistration@worcester.edu) at least two business days prior to first class meeting. No refunds or credits are given for student absences.
When course or workshop is cancelled by the WCC, a full refund will be issued.
The Worcester Center for Crafts generally follows the Worcester State University(WSU) inclement weather policy relative to building closings and class cancellations. Cancellation announcements will be made on the Craft Center's Facebook Page Click here for cancellations and on our blog. Click here to visit blog. The Worcester Center for Crafts schedules make-up classes when possible for sequential classes.

For evening Craft Center classes and weekend workshops, the offices will make an assessment of the weather conditions, and students will be notified by 2PM via email if a closure will continue through the evening or if the class will run as scheduled. Please be sure to check the Facebook page for must up-to-date information.
Questions? Call us at 508.753.8183 X301
Session Calendar