Summer Stage: Discovering Yourself Through Performance (10-17 yrs)
Dates: July 26 - August 6, 2021
Meets: M, Tu, W, Th and F from 9:00 AM to 1:00 PM
Location: 25 Sagamore Road Multi-Media
Student Fee: $480.00
Sorry, we are no longer accepting registrations for this course. Please contact our office to find out if it will be rescheduled, or if alternative classes are available.
Over this two-week summer program, participants will explore a variety of performative techniques toward devising and creating a show to be presented on the final day. Topics will include (but not be limited to): team building and collaboration, improvisation, monologues, puppetry, vocal techniques for the stage, theatrical etiquette, 10-minute plays, creating characters, movement, storytelling, performance art, design (sets, lights, music), playwriting, and any other topics that spark interest.
The course is designed to allow students to explore a variety of the possibilities found in theatre. They will be introduced to techniques, and then allowed to explore and create in their own way, receiving feedback from the instructor(s) and peers as they work toward their final performance. On the last day, we will perform for invited guests.
All levels are welcome!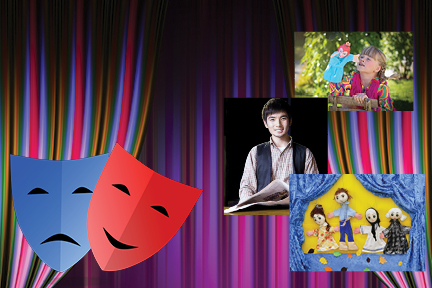 Cancellation Policies
Please read through these policies carefully on our website's policy page. Written notice of cancellations via email (to wccregistration@worcester.edu) is required within specified cancellation windows detailed on our website.
COVID Policies
All registrants are asked to review the Craft Center's COVID-19 Response page for guidance on the safety policies we are asking all students to abide by in our combined efforts to maintain a healthy work environment. Mask wearing continues to be required of all visitors and students in all studios to keep everyone safe regardless of vaccination status. Please review this information on here.
Craft Center COVID Policy Acknowledgement
Every registrant will be expected to complete an electronic form included in their registration receipt acknowledging that they understand and agree to comply with the policies outlined. This form must be submitted no less than 48 hours prior to the start of the first class. If you have submitted this form for a prior registration, you do not need to submit another one.
To access the form, click here or please refer to your emailed registration receipt.

Inclement Weather Policy
For information on the Craft Center's inclement weather cancellation policies, please visit our website's policy page. Students are encouraged to also check our homepage and our Facebook page for status updates and closure announcements.
Questions? Call us at 508.753.8183 X301


Notes:
For Youth & Teen Program Enrollments: -Parents/Guardians, upon completing your registration, please complete the Photo Release Waiver Form on behalf of your child via this link: https://forms.gle/Z7pCM3sPDaqWXRvx7 -Please also review the Youth & Teen Program guide and forms that will be attached to your receipt.
25 Sagamore Road Multi-Media
| Date | Day | Time | Location |
| --- | --- | --- | --- |
| 07/26/2021 | Monday | 9 AM to 1 PM | 25 Sagamore Road Multi-Media |
| 07/27/2021 | Tuesday | 9 AM to 1 PM | 25 Sagamore Road Multi-Media |
| 07/28/2021 | Wednesday | 9 AM to 1 PM | 25 Sagamore Road Multi-Media |
| 07/29/2021 | Thursday | 9 AM to 1 PM | 25 Sagamore Road Multi-Media |
| 07/30/2021 | Friday | 9 AM to 1 PM | 25 Sagamore Road Multi-Media |
| 08/02/2021 | Monday | 9 AM to 1 PM | 25 Sagamore Road Multi-Media |
| 08/03/2021 | Tuesday | 9 AM to 1 PM | 25 Sagamore Road Multi-Media |
| 08/04/2021 | Wednesday | 9 AM to 1 PM | 25 Sagamore Road Multi-Media |
| 08/05/2021 | Thursday | 9 AM to 1 PM | 25 Sagamore Road Multi-Media |
| 08/06/2021 | Friday | 9 AM to 1 PM | 25 Sagamore Road Multi-Media |