Fused Glass Jewelry: Earrings & Pendants
Dates:

January 24, 2020  Check for other dates

Meets:

F from 6:30 PM to 8:30 PM, 1 session

Hours:

2.00

CEUS:

2.00

Location:

Instructor:

Fee:

$60  Fee Breakdown

Notes:

Avoid wearing man made fibers and bring a bottle of water with you to class. All glass classes take place at the Worcester Center for Crafts' New Street Glass Studio, 35B New Street, Worcester, MA 01605. WINTER Note: When entering the parking lot at New Street, please stay right and circle around the wooded area the long way round to locate the parking lot in front of the Glass Studio. At this time, the left fork may be roped off due to hazardous conditions (flooding and subsequent freezing) .
Sorry, we are no longer accepting registrations for this course. Please contact our office to find out if it will be rescheduled, or if alternative classes are available.
Course Description
Create your own fused glass earrings with a range of colors provided for you. There will be plenty of templates and ideas for designs or you can bring your own. You'll learn about the basics of cutting and shaping glass for fusing, make 1-2 pieces of jewelry which you'll leave at the end of class for firing, and your finished creations will be ready for you a few days after the class. Makes a great gift! No experience necessary, all materials included.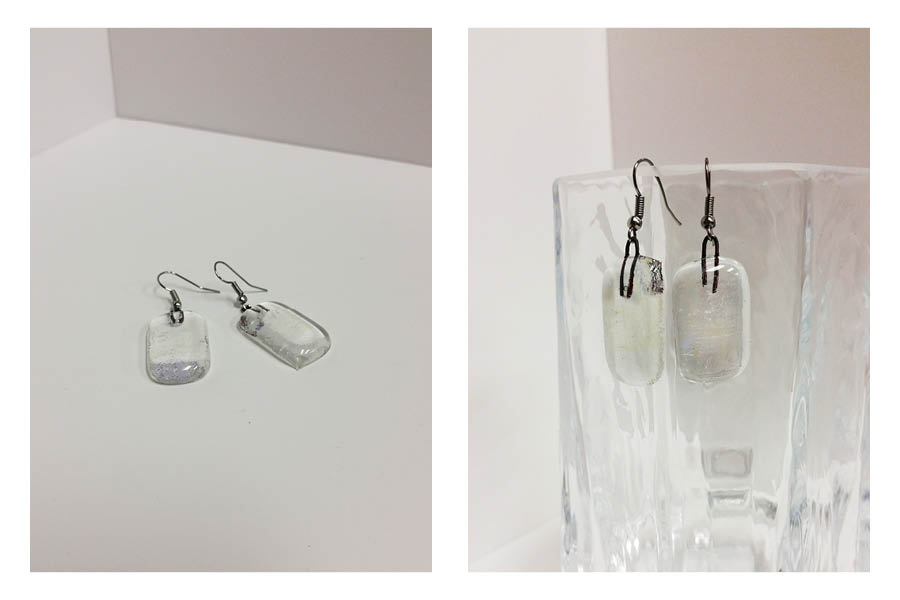 Refund Policy
A refund is given upon request in writing (Please email wccregistration@worcester.edu) at least two business days prior to first class meeting. No refunds or credits are given for student absences.
When course or workshop is cancelled by the WCC, a full refund will be issued.
The Worcester Center for Crafts generally follows the Worcester State University(WSU) inclement weather policy relative to building closings and class cancellations. Cancellation announcements will be made on the Craft Center's Facebook Page Click here for cancellations and on our blog. Click here to visit blog. The Worcester Center for Crafts schedules make-up classes when possible for sequential classes.

For evening Craft Center classes and weekend workshops, the offices will make an assessment of the weather conditions, and students will be notified by 2PM via email if a closure will continue through the evening or if the class will run as scheduled. Please be sure to check the Facebook page for must up-to-date information.
Questions? Call us at 508.753.8183 X301
Session Calendar